Jewelry Project Tutorials
Once you've gotten your feet wet with jewelry making, it's time to take on some projects!  And naturally, I have some for you.
Shall we get started?
About the Projects
I've tried to group the projects by technique used.  So I have projects with (for example) peyote beading, viking knit and more.
The projects are either a single piece of jewelry, or sometimes with multiple pieces.  All of them have not only the base project, but also ideas for different colors or other variations.
All of these projects were written by me, and with my own photos.  I didn't swipe someone else's work (which is really tacky, not to mention unethical).
How Are the Projects Delivered?
The projects are all downloadable ebook tutorials.  They are not paper books that arrive in the mail.  So once you select your project(s), you'll receive a download link.  This means that no matter what time of day or night, you'll be able to start reading your project ebook within a minute or two!
So — while you don't get a paper copy delivered to you in the mail, you also don't have to wait for it to arrive!
Is There a Cost?
With my project ebooks, I do have a small cost involved.  The ebook tutorials range in price depending on the technique and the number of projects included, but none are over $10.
Not sure you want to pay for something without know my writing style?  Check out my Basics ebooks, so you can get an idea of how I write my tutorials, and the kind of photos I take.  I think you'll be pleasantly surprised.  🙂
Project List
Here are the current projects that are available:
Odd Count Peyote Tutorial 1 – "The Odds are in Your Favor":  I venture into odd count peyote in this tutorial, giving you instruction on how to do basic odd count peyote.  Then, I put you new knowledge to use with three different bracelets (and some variations).  Mix and match, you will have loads of fun with this tut!
Right Angle Weave Tutorial #1 – Begin the Bling:  This is the first of my RAW tutorials.  It has four projects which range from traditional right angle weave to using large beads to a triangular weave.  Ever have problems stabilizing your right angle weave projects?  You'll learn several ways in this tutorial!  Along with plenty of bling.  🙂
Beadweaving Earrings Tutorial #1:  This is the first in my series of beaded earrings tutorials, made with beadweaving techniques.  They are versatile indeed; you can make them as long or as short as you like, and the looks made with these projects are wonderfully varied!
Bead Embroidery Bracelets 1:  This ebook shows you how to make a bracelet with two different looks.  They may look complicated at first glance, but you will be surprised at how easy they really are to make!  And you'll learn how to design your bracelet so that it fits you perfectly!
Even-Count Flat Peyote Bracelets: Three bracelets, each with one variation, all done in flat even-count peyote. Six bracelets total, with other color variations to titillate your senses!
Intro to Bead Embroidery Components:  This is a big ebook, 60 pages in length!  If you've always wanted to try bead embroidery but were intimidated by the elaborate projects in books and magazines, then this is the book for you.  You get instructions on all kinds of bead embroidery projects that are quick and easy to make, but they look like you spent hours and hours on them.  Surprise!  Most of them you can start after lunch and be able to wear it that night.
Intro to Viking Knit Jewelry:Although it's not primarily beading, this ebook walks you  through how to make Viking Knit jewelry — in a snap, you'll be making your very own!  And of course, there are beaded options.
Viking Knit Jewelry Embellishments:  If you like beadwork and viking knit and wonder how to effectively put them together, this is the book you want.  From the ins and outs of using colored wire, to beadwork to including the beads in the weaving, it's a wonderful tutorial.
Freeform Wirework Beaded Pendant: Ready for a little freeform work?  Even if you've always make very structured jewelry, you can learn to work freeform!  Combine wire, beads and a little imagination, and what do you get?  A one-of-a-kind, gorgeous piece of jewelry!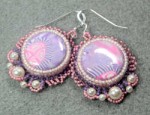 Bead Embroidery Earrings 1:  These earrings are a great intro into the world of bead embroidery.  You'll get three projects, simple to fancy.  The great part is that they are pretty quick to make up!
Can-Can Cabochon Necklace: Knock everyone out with this gorgeous necklace! The Can-Can combines bead embroidery with peyote stitch and stringing to create a glorious, one-of-a-kind piece of jewelry. You'll learn to make the necklace, then see two variations…and some other goodies, too!
16 Responses to Jewelry Project Tutorials