Intro to Viking Knit Jewelry Tutorial
This viking knit chain tutorial is for anyone who loves the look of viking knit, and wants to create some jewelry of their own.  Sound like you? Read on!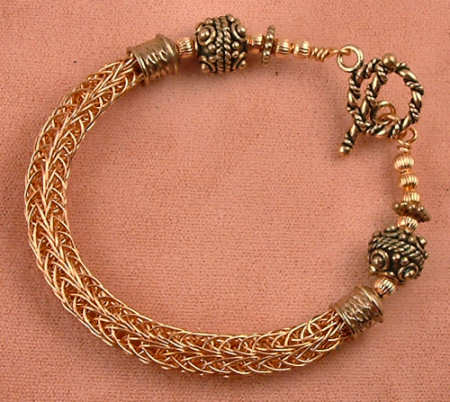 Viking knit chain is beautiful, and can have many different "looks", depending on how you work it. And once you learn the basic technique, the sky's the limit.
Introduction to Viking Knit
I've written a viking knit chain tutorial called Introduction to Viking Knit. It's 31 pages filled that answers all those "how do I…" questions!
You'll learn about:
The tools and supplies needed. (Hint, you probably already have most of them.)
How to create a single knit chain.
How to create a double knit chain.
What you need to know about your wire (and what not to get or it will drive you crazy).
An answer for "how much wire will it take me to…" — how to make a good estimate of the wire you'll need to complete a project.
How to join wire.
Lots more!
There are many, many pictures, with some extreme close-ups of where exactly you need to place your wire – no guessing.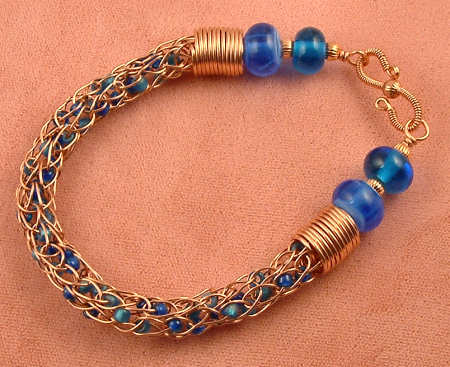 Included is a beaded viking knit bracelet project (left) that shows you how to make even fancier viking knit chain, and you won't believe how easy it is (shh, don't tell anyone, let them think you've slaved away).
Oh, and of course there is a gallery of work, for your viewing pleasure!
Buying the Tutorial – How Much?
The Introduction to Viking Knit chain tutorial is a mere $10. It's delivered to you as an ebook, and it's about 1.8 MB in size.  And it's delivered automatically, so there's no waiting for it to arrive!
(You will need to have a copy of Adobe Reader on your computer in order to view the ebook, but if your computer is less than 5 years old, it's probably already installed.)
OK, How Do I Buy?
Simply click the "Add to Cart" button (which accepts all major credit cards, PayPal, etc.) and you'll get an instant download — no waiting. You'll get a link to the download after you've completed your purchase (as well as an email with the link information).  Simple, quick and get it any time of the day or night!
Of course, this ebook is meant for you, and you alone, so please don't share it (thanks). And because it's an electronic product, all sales are final.
Are you ready for a viking knit tutorial ebook that will have you creating gorgeous jewelry of your own in no time at all? Then just click the button and order yourself a copy of the ebook.
(PayPal -Â  Secure checkout which supports Visa, Mastercard, American Express, Discover and more!)