Intro to Bead Embroidery Components Tutorial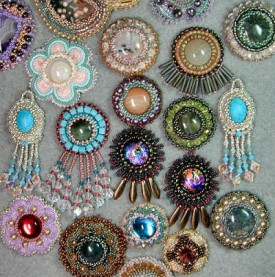 Yes, it's finally here — my Intro to Bead Embroidery Components tutorial.  It's been a long time in coming, and kept growing in size when I added more and more topics and projects.  It ended up with 60 pages and loads and loads of photos.
And of course, plenty of components and projects to keep you busy.
One of my favorites ended up being the dagger fringe earrings — made with dichroic cabochons, it turned up being delicious.  :)  It's one of the components that kind of called out to me (I could hear the cabs pleading to be made into something pretty).
Why Components?
I love bead embroidery, and the drop-dead gorgeous projects I see in books and magazines are definitely eye candy!  But collars and large cuffs aren't what I wear for jewelry.  And while I do enjoy bling, I also know that I would never be able to finish one of the broad collars — way too time-consuming for me.
Components, on the other hand, are as close to instant gratification as you can get!  Not to mention that they can be dressed up or down to suit your fancy.
You can use them singly or connected together to make a necklace or bracelet.  Maybe a pair for a set of earrings?
What about mixing and matching components?  As you can tell, there are loads of things you can do.
And since each component works up pretty fast, you can start one after lunch and wear it that night.
(Oh by the way — it's really fun, too!) 🙂
 What You Will Learn
In the 60 pages of the Intro to Bead Embroidery Components tutorial, you'll learn lots, including the following.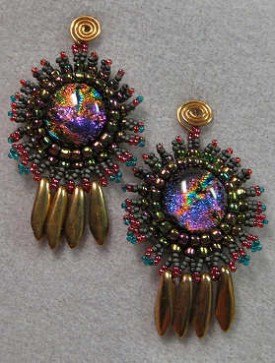 The supplies you'll need for bead embroidery, and how they fit in to the projects as a whole. And why some supplies are better than others.
Bead embroidery stitches, along with some tips for making some of them easier and faster.
Five different component styles with full instructions, that you can mix and match; and how using different beads can change the look.
Fringe 101:Â  Different kinds of fringework you can use with the bead embroidery components, one of which is the dichroic dagger fringe earrings.
Two projects that show you how to use some components together.
And naturally…even more!
If you've been beading for a little while, you've most likely heard the word "components". But how exactly does that apply to bead embroidery?
If you're not quite sure what components can do for you, here's a short video on some of what's covered.
Here's another idea of how to use components, in the bead embroidery bracelets tutorial.
How to Get the Tutorial
Your tutorial is delivered as an ebook, so it's an immediate download. This means you can satisfy your "need to bead" at any time of day or night!
(Keep in mind that while you're not getting a paperback copy in the mail, it also means that you don't have to wait for the mailman — yay!) Also, because of the nature of this tutorial, there are no refunds. But I've tried my best to over-deliver for you!
The Intro to Bead Embroidery Components tutorial is just $10, and you'll get instructions for making not only the components, but also a necklace and a pendant (or two). You'll get all kinds of compliments, and you'll be able to proudly say, "Yes, I made this myself!"
So click the "Add to Cart" button above and you're on your way to making your very own bead embroidery components and jewelry. It's secure and you can safely pay with any major credit card. You'll receive the download link in an email lickety-split after you place your order.
Thanks so much, and enjoy making your very own bead embroidery components!
One Response to Intro to Bead Embroidery Components Tutorial