Russian Spiral Gets Reversed! Russian Spiral Video Tutorial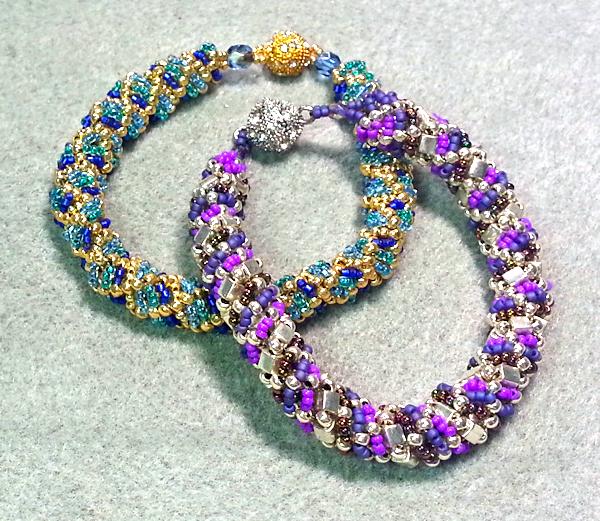 I'm sure what I call a Reverse Russian Spiral has another name, but it really is just a pattern variation, as opposed to a brand-new stitch.   I called it a reverse spiral some time back, and the name stuck for me.
What's Different?
In a regular Russian Spiral, the various colors all spiral one way up the rope — they all go in the same direction (typically clockwise).  In the reverse method, one of the colors spirals clockwise, and the others counter-clockwise.
So…same stitch, different look.  😀
Video Tutorial
In the video tutorial, I show you how to make the purple bracelet.  I alos explain the differences between the purple and the blue bracelet.  But first, a little about the supplies.
You will need the following for the purple bracelet:
Silver 4mm cube beads:Â  About 5 grams.
Permanently galvanized silver seed beads, size 8:Â  About 5 or 6 grams.
Light purple (orchid) opaque size 11 seed beads:Â  About 5 grams.
Dark purple matte size 11 seed beads:Â  About 5 grams.
Purple iris size 11 seed beads:Â  About 5 grams.
Amethyst-colored 4mm fire polished beads:Â  2
Size 11 beading needle; you can use a size 10 or 12, if you prefer.
Thread:  I used Fireline; you can use 6lb or 8 lb.  Or, you could also use a thread like One-G or K-O.
Clasp of your choice; I used a round silver magnetic clasp.
Now, all you need to do is kick back and watch the video!
2 Responses to Russian Spiral Gets Reversed! Russian Spiral Video Tutorial