DIY Cabs – Create a Faux Dichroic Look!
A few months ago, I got this idea to make my own dichroic-look cab.  I had just found a bag of cabs (some glass, some acrylic) that I had bought years ago, and I wondered what I could do with them.  I had been playing around with some nail art, so I thought, "Hmmm, wonder what these cabs would look like if I polished them"?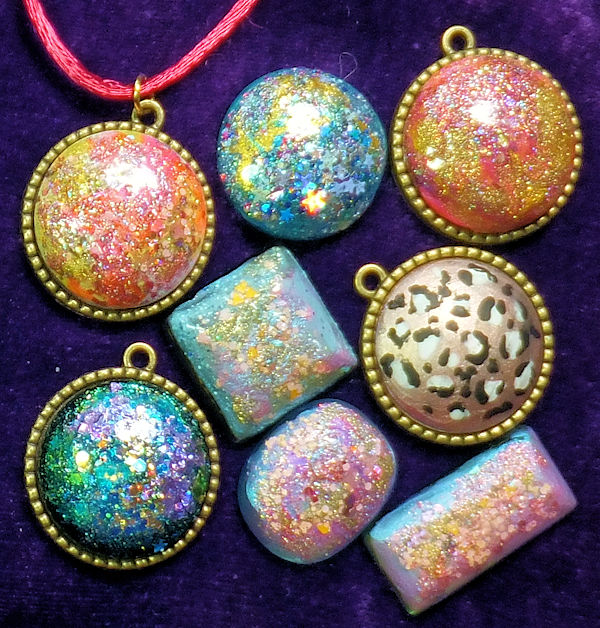 I tried it, and to paraphrase the potato chip saying, "I couldn't stop with just one."  With a bag of cabs and a zillion bottles of nail polish, I was having a grand time!  And as an FYI, in the video below, I got my cabs and bezels from Amazon.
 Tips for Great Looks
Here are some tips I came across for some great cabs,
Use a base coat.  I tried out both black and white; each looked fine, but whatever color, a fast-drying polish is the best bet.
Don't use an expensive topcoat polish.  you're going to use lots, so an inexpensive clear topcoat is best.
Have fun with glitter or glitter polish.  I loved using all kinds of glitter and glitter polish.  If you use loose glitter, make sure it's solvent-resistant.
Let each layer dry thoroughly.   The more layers you apply, the longer it will take to dry.  The last coat may need a day to dry (if you put on more than 5 coats, that is).  Or, for your final clear topcoat, you can use Poshe or Seche Vite, which helps seep up the drying time considerably.
If you have a UV lamp…  If you happen to have a UV lamp, try using gel nail polish.  Since I have a UV lamp, I tried using Gelish basecoat, then a bunch of different regular polish, then some Gelish topcoat.  Yes, I know it's not exactly cheap, but it dries super-fast with the UV lamp.  Plus,  the gel topcoat will give the cab a lot of depth.
But the best tip I can give you is to just play!  Get out your nail polishes, grab some cabs, and have yourself a blast!