Freeform Wirework Beaded Pendant Tutorial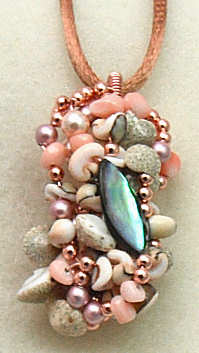 Do you love the look of freeform wirework?  It's what first drew me to making jewelry, and every so often I feel the need to get back to my roots.  This time, though, I also want to teach you while I'm at it!
Now freeform is what it implies — putting beads and wire wherever suits your look.  However, if you're used to a more structured type of jewelry, freeform wirework can be a little intimidating.  Not to worry; I have loads of pictures with ideas of where you can place your wire and beads.  I'll also talk about the kinds of beads and wire used for the projects.
Tools?  It's pretty simple — a wire cutter, a pair of round nose pliers and a pair of chain nose pliers.  No fancy tools needed to get the fancy look!
What You Will Learn
So what will you be learning in this tutorial? How about:
Creating a wire backbone for the pendant; I show you two different ways, so you can pick the one you like best.
How to make neat wire wraps.
Choosing materials.
How to work freeform, even if you've always used a pattern!
And so much more!
Dress it Up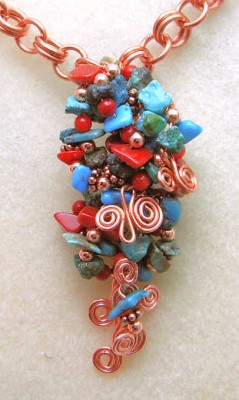 The neat thing about this pendant is that once you learn the basics, you can make it as simple or fancy as you choose.  You can also make them in many sizes — that's the joy of freeform wirework.
Not only do the colors of beads make a difference, but also the textures.  Mixing matte with shiny, round with irregular, organic and synthetic — it's all fair game!
When you get right down to it, freeform is about taking supplies you might not ordinarily put togther and making something wondrous with it.
Photos, Photos, Photos!
I've got lots of photos for you in the ebook tutorial.  In the 25 pages, you'll find 43 full-color photos.  There are a lot of close-ups, so you'll be able to follow the steps easily, without squinting.
There are two projects in this freeform wirework beaded pendant tutorial; they are the pendants on this page.
"Under the Sea" features pearls, shells and coral, for a subtle and elegant look.  It's really timeless and goes with just about anything.
"Desert Spirit" is more Southwestern in flavor, featuring lots of turquoise and copper.  It also has more movement, thanks to the dangles on the bottom, and the spirals in the body of the pendant.
Here's a quick overview of the pendants covered in the tutorial.
How to Buy the Tutorial
Your tutorial is delivered as an ebook, so it's an immediate download. This means you can satisfy your "need to bead" at any time of day or night!
(Keep in mind that while you're not getting a paperback copy in the mail, it also means that you don't have to wait for the mailman — yay!) Also, because of the nature of this tutorial, there are no refunds. But I've tried my best to over-deliver for you!
The freeform wirework pendant tutorial is just $5, and you'll get instructions for making both the Under the Sea and Desert Spirit pendants. You'll get all kinds of compliments, and you'll be able to proudly say, "Yes, I made this myself!"
And guess what else?  You can use these designs in jewelry that you sell!  Yep, you can use the directions to make jewelry and then offer it for sale.  (All I ask is that you credit me with the original design — fair enough?)
So click the "Add to Cart" button above and you're on your way to making your very own freeform wirework beaded pendants. It's secure and you can safely pay with any major credit card. You'll receive the download link in an email lickety-split after you place your order.
Thanks so much and I hope you enjoy making this piece of wire and beaded jewelry!
2 Responses to Freeform Wirework Beaded Pendant Tutorial