Even Count Peyote Bracelets Tutorial
Even count peyote bracelets are wonderful "instant gratification" jewelry projects.  Not only is peyote beading easy, but it works up fast.  And it also lends itself well to embellishments, so you can dress up and dress down as you like.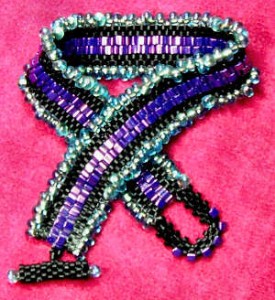 How about taking a look at this project, based on flat even count peyote.
Three Bracelets, Six Looks
In this tutorial, you'll find three bracelets, of which I also did one variation each.  That means six bracelets for you to learn about and enjoy stitching!
The projects are
Exploring All Angles: a journey into using triangle seed beads in your work.  With this lovely project, you also learn to make your very own peyote toggle clasp!  In the variation, you learn about using matagama ("drop") beads as well.
Catch the Wave: this undulating bracelet makes me think of the ocean, with swells rising and falling.  In the primary example, I made it in seashore colors.  In the variation, I show you a more angular look, if that's what intrigues you.  And the angular look has a bit more texture as well.
Elegant Intrigue: Turn a plain peyote bracelet into a show-stopper!  You'll use bead embroidery on this project.  And on the variation (which I've dubbed, "Girls Just Wanna Have Fun"), you'll take that embroidery up a notch!
Want to see the bracelets included in this tutorial "live"?  Here's a video I did about the bracelets, so you can see them better.
The ebook is 45 pages long, chock full of photos (89 of them, all in color) and has detailed instructions.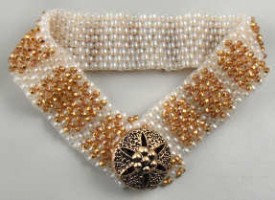 There are photos with some extreme close-ups of where exactly you need to place your needle and thread- no guessing.
Now this tutorial does assume you know the basics of even count peyote, but if you're new to it, don't worry.  (I have a free tutorial that teaches you the basics of even count flat peyote, so you're good there.)
So, anything else you need to know?  Read on…
OK, How Do I Buy?
Simply click the "Add to Cart" button (which accepts all major credit cards, PayPal, etc.) and you'll get an instant download — no waiting. You'll get a link to the download after you've completed your purchase (as well as an email with the link information).
Simple, quick and get it any time of the day or night!  (Remember, since this is an ebook, you don't get a copy in the mail.  But on the other hand….you don't have to wait for the mail delivery either!)
The Even Count Peyote Bracelets tutorial is a mere $4. It's delivered to you as an ebook, so the download is pretty much immediate.  The ebook is about  1MB in size.
Of course, this ebook is meant for you, and you alone, so please don't share it (thanks). And because it's an electronic product, all sales are final.
Are you ready for the even-count peyote bracelets tutorial ebook that will have you creating gorgeous jewelry of your own in no time at all? Then just click the button and order yourself a copy of the ebook. (P.S. — it's a secure checkout which supports Visa, Mastercard, American Express, Discover and Paypal.)
8 Responses to Even Count Peyote Bracelets Tutorial