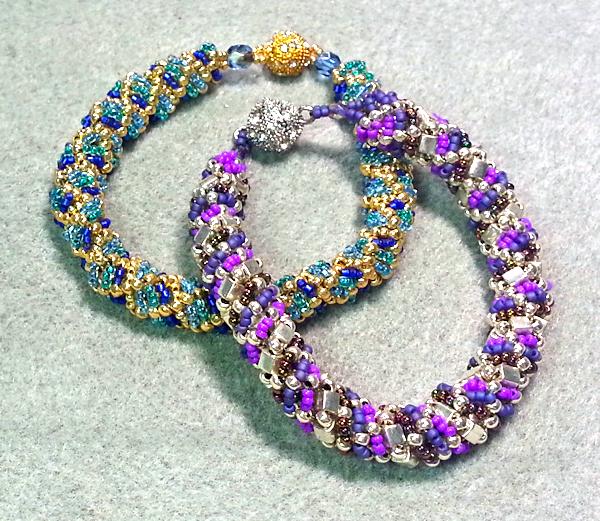 I'm sure what I call a Reverse Russian Spiral has another name, but it really is just a pattern variation, as opposed to a brand-new stitch.   I called it a reverse spiral some time back, and the name stuck for me.
What's Different?
In a regular Russian Spiral, the various colors all spiral one way up the rope — they all go in the same direction (typically clockwise).  In the reverse method, one of the colors spirals clockwise, and the others counter-clockwise.
So…same stitch, different look.  😀
Video Tutorial
In the video tutorial, I show you how to make the purple bracelet.  I alos explain the differences between the purple and the blue bracelet.  But first, a little about the supplies.
You will need the following for the purple bracelet:
Silver 4mm cube beads:  About 5 grams.
Permanently galvanized silver seed beads, size 8:  About 5 or 6 grams.
Light purple (orchid) opaque size 11 seed beads:  About 5 grams.
Dark purple matte size 11 seed beads:  About 5 grams.
Purple iris size 11 seed beads:  About 5 grams.
Amethyst-colored 4mm fire polished beads:  2
Size 11 beading needle; you can use a size 10 or 12, if you prefer.
Thread:  I used Fireline; you can use 6lb or 8 lb.  Or, you could also use a thread like One-G or K-O.
Clasp of your choice; I used a round silver magnetic clasp.
Now, all you need to do is kick back and watch the video!
A few months ago, I got this idea to make my own dichroic-look cab.  I had just found a bag of cabs (some glass, some acrylic) that I had bought years ago, and I wondered what I could do with them.  I had been playing around with some nail art, so I thought, "Hmmm, wonder what these cabs would look like if I polished them"?
I tried it, and to paraphrase the potato chip saying, "I couldn't stop with just one."  With a bag of cabs and a zillion bottles of nail polish, I was having a grand time!  And as an FYI, in the video below, I got my cabs and bezels from Amazon.
 Tips for Great Looks
Here are some tips I came across for some great cabs,
Use a base coat.  I tried out both black and white; each looked fine, but whatever color, a fast-drying polish is the best bet.
Don't use an expensive topcoat polish.  you're going to use lots, so an inexpensive clear topcoat is best.
Have fun with glitter or glitter polish.  I loved using all kinds of glitter and glitter polish.  If you use loose glitter, make sure it's solvent-resistant.
Let each layer dry thoroughly.   The more layers you apply, the longer it will take to dry.  The last coat may need a day to dry (if you put on more than 5 coats, that is).  Or, for your final clear topcoat, you can use Poshe or Seche Vite, which helps seep up the drying time considerably.
If you have a UV lamp…  If you happen to have a UV lamp, try using gel nail polish.  Since I have a UV lamp, I tried using Gelish basecoat, then a bunch of different regular polish, then some Gelish topcoat.  Yes, I know it's not exactly cheap, but it dries super-fast with the UV lamp.  Plus,  the gel topcoat will give the cab a lot of depth.
But the best tip I can give you is to just play!  Get out your nail polishes, grab some cabs, and have yourself a blast!
I kept meaning to make a tutorial on how to make a sliding knot, so you can adjust the length of your necklace or bracelet on the fly.  I just never got around to it, until one day I was staring at my beading stash and spied the leather cording.  Ah hah!  Time to do that sliding knot video!
But First – Why Use a Sliding Knot?
I don't know about you, but there are times that I wish a particular necklace was on a slightly longer or shorter chain, depending on the clothes I am wearing.  A sliding knot lets you adjust the length without having to run off to get a pair of pliers.  Or have to take the pendant off one chain or cord and place it on another.
And you do it while you are wearing it, so changing the length is easy as changing your mind.  😉
Video and My Oops!
I'll make this post short and let you watch the video, complete with instructions of how – and how not  – to make your own necklance, LOL!  I hope you get a chuckle out of it.