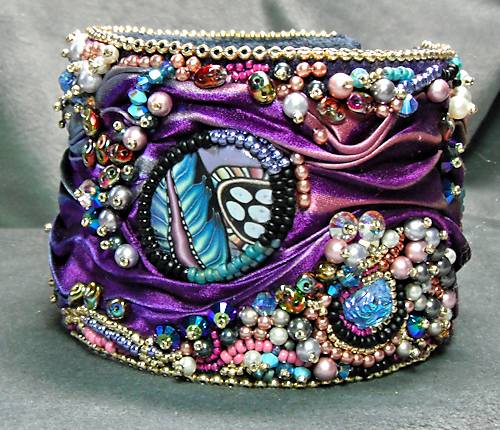 Every time I take a bead embroidery class, I come away full of new ideas.  A couple of weeks ago I took a couple of classes with Sherry Serafini (who, by the way, is as awesome a teacher as she is a beader), and this is the result of one of the classes.  I call this bead embroidery bracelet "Gypsy's Silk".
A Different Look
You'll notice that this is a little different from most bead embroidery; it's closer to being mixed media.  Then again, bead embroidery really is mixed media in a way, since you are beading on some type of fabric or backing.
The difference with this is that silk is being used as part of the bracelet.  It's a type called Shibori, and it's gorgeous!  I am not sure if the silk is pleated, then dyed, or dyed before pleating.  Either way, it's beautiful, as well as intriguing to work with.
So, I have to give Sherry the credit for thinking up this beautiful new style of bead embroidery.  But it's also given me ideas for taking this a step in a different direction.  Which means that I have a whole slew of new projects percolating for my upcoming "Bead Embroidery Components 2" tutorial.
Where's the Shibori Silk?
While the Shibori silk ribbon in the bracelet above I bought from Sherry (I fell in love with the colors), I had also bought some online from Etsy (one of my favorite places) that was a bit more muted.  But at the class, I discovered that one of my classmates also sold Shibori ribbon, so click here for her site – she has absolutely gorgeous colors too.  (And no, I don't get a commission for recommending her — I just saw with my own eyes what she had with her, so I know it's wonderful.)
Big and Beautiful (If I Say So Myself)
This is a really wide cuff — a little over 2 inches.  But it takes a surprisingly short time to complete.  Of course, part of that is due to the fact that the ribbon takes up a fair amount of space that would normally be covered by beads.  But, that was my idea — Sherry's demo piece had less silk showing.  But since I have never been one to color between the lines, I took my piece in a little different direction.
So that's "Gypsy's Silk".  I had a really hard time naming this piece, but it seems to fit.  Well, I think so at any rate.  So, off to the races (so to speak) and I'll start getting together my next Bead Embroidery Components 2 tutorial — and it will be far more "bling-y" than Intro to Bead Embroidery Components.
So, hope you like this piece, and see you later!  🙂