Basics Tutorials
The Basics ebook and video tutorials are here, and they are free!  It's a gift, from me to you.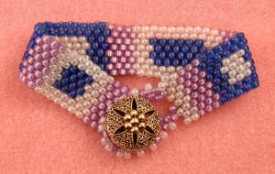 All of these ebooks were written by me, and with my own photos — they aren't copied from someone else's material.
What Are the Basics Tutorials for Jewelry?
The Basics line of ebooks and videos are designed to give you basic information about something.  For example, one ebook tells you all about seed beads; another shows you how to do the peyote stitch.  Or, you can see videos on how to make earring findings (not to mention earrings).
You get enough information to learn a technique or find out about something.  And then sometimes even a project to try out your new skills!
The ebooks are .pdf files, meaning you need a (free) copy of Adobe Reader on your computer.  You probably already have it installed, especially if you'

ve gotten your computer in the past 5 years.
Click on the links and they will open in a new page.  You can then save the file to your computer if you like.
As for the videos, they are at the bottom of the posts and all you have to do is click the video, sit back and relax.  🙂
It's as simple as that!  And better yet, you don't need to fill out any forms or sign up for anything — just enjoy.
Now that you know about the free Basics Tutorials for Jewelry, here they are for you!
Are There More Ebooks or Videos?
These are all the Basics Tutorials for Jewelry ebooks that I have at the moment, but I'm always adding to the list.  Bookmark this page now, so you can come back and get more ebook tutorials!
Want to see all my video tutorials?  You can find them here.
Meanwhile, don't forget to also check out my projects tutorials as well — you may find a project or two (or three or…) that tickles your fancy.
7 Responses to Basics Tutorials