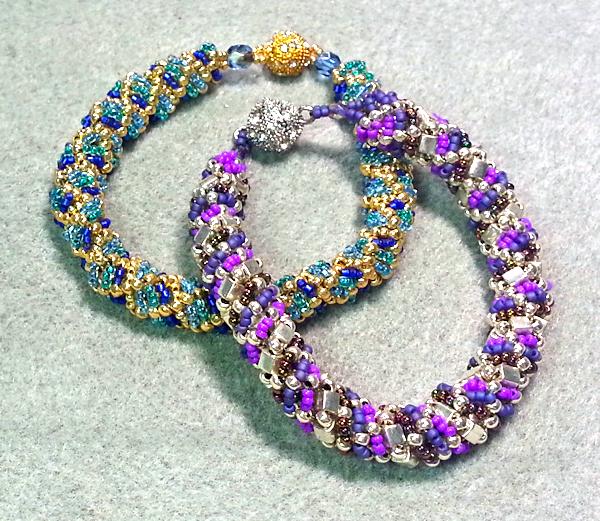 I'm sure what I call a Reverse Russian Spiral has another name, but it really is just a pattern variation, as opposed to a brand-new stitch.   I called it a reverse spiral some time back, and the name stuck for me.
What's Different?
In a regular Russian Spiral, the various colors all spiral one way up the rope — they all go in the same direction (typically clockwise).  In the reverse method, one of the colors spirals clockwise, and the others counter-clockwise.
So…same stitch, different look.  😀
Video Tutorial
In the video tutorial, I show you how to make the purple bracelet.  I alos explain the differences between the purple and the blue bracelet.  But first, a little about the supplies.
You will need the following for the purple bracelet:
Silver 4mm cube beads:  About 5 grams.
Permanently galvanized silver seed beads, size 8:  About 5 or 6 grams.
Light purple (orchid) opaque size 11 seed beads:  About 5 grams.
Dark purple matte size 11 seed beads:  About 5 grams.
Purple iris size 11 seed beads:  About 5 grams.
Amethyst-colored 4mm fire polished beads:  2
Size 11 beading needle; you can use a size 10 or 12, if you prefer.
Thread:  I used Fireline; you can use 6lb or 8 lb.  Or, you could also use a thread like One-G or K-O.
Clasp of your choice; I used a round silver magnetic clasp.
Now, all you need to do is kick back and watch the video!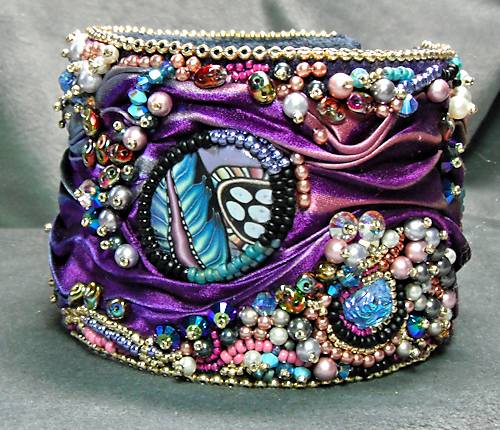 Every time I take a bead embroidery class, I come away full of new ideas.  A couple of weeks ago I took a couple of classes with Sherry Serafini (who, by the way, is as awesome a teacher as she is a beader), and this is the result of one of the classes.  I call this bead embroidery bracelet "Gypsy's Silk".
A Different Look
You'll notice that this is a little different from most bead embroidery; it's closer to being mixed media.  Then again, bead embroidery really is mixed media in a way, since you are beading on some type of fabric or backing.
The difference with this is that silk is being used as part of the bracelet.  It's a type called Shibori, and it's gorgeous!  I am not sure if the silk is pleated, then dyed, or dyed before pleating.  Either way, it's beautiful, as well as intriguing to work with.
So, I have to give Sherry the credit for thinking up this beautiful new style of bead embroidery.  But it's also given me ideas for taking this a step in a different direction.  Which means that I have a whole slew of new projects percolating for my upcoming "Bead Embroidery Components 2" tutorial.
Where's the Shibori Silk?
While the Shibori silk ribbon in the bracelet above I bought from Sherry (I fell in love with the colors), I had also bought some online from Etsy (one of my favorite places) that was a bit more muted.  But at the class, I discovered that one of my classmates also sold Shibori ribbon, so click here for her site – she has absolutely gorgeous colors too.  (And no, I don't get a commission for recommending her — I just saw with my own eyes what she had with her, so I know it's wonderful.)
Big and Beautiful (If I Say So Myself)
This is a really wide cuff — a little over 2 inches.  But it takes a surprisingly short time to complete.  Of course, part of that is due to the fact that the ribbon takes up a fair amount of space that would normally be covered by beads.  But, that was my idea — Sherry's demo piece had less silk showing.  But since I have never been one to color between the lines, I took my piece in a little different direction.
So that's "Gypsy's Silk".  I had a really hard time naming this piece, but it seems to fit.  Well, I think so at any rate.  So, off to the races (so to speak) and I'll start getting together my next Bead Embroidery Components 2 tutorial — and it will be far more "bling-y" than Intro to Bead Embroidery Components.
So, hope you like this piece, and see you later!  🙂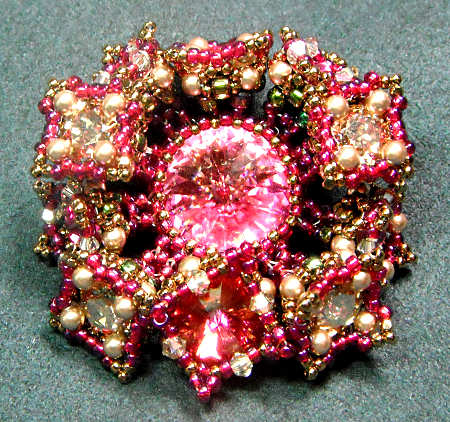 Even a teacher needs lessons herself at times, so I took a class with Sabine Lippert this past weekend.  In case you don't know, Sabine is the author of the Beaded Fantasies
book on Amazon.  And her class was definitely an eye-opener!
If you've been following my work, you know that I am a fan of "bling".  And although I tend to wear a bit more subdued variety of bling, this particular project, called "Blossom Bezel" called out to me.
(Well, maybe I am not so subdued, after thinking a moment — after all, I do wear "Harlequin's Romance" quite a bit…)
At any rate, the blossom is quite substantial — it almost covers the palm of my hand.  The center rivoli is 18mm, which perhaps gives you a better idea of scale.
Lessons Learned
For one, there is a lot more than meets the eye, as far as construction goes.
Lesson two, 8mm chatons and rivolis are quite useful.  I always thought that a rivoli had to be at least 12mm in order to successfully be nestled into a beaded bezel, but I was wrong!
And speaking of chatons — I never realized they could be so useful, or so much fun to work with.  I guess partly because 8mm is about the largest size, and as you see above — I didn't know that 8mm was a viable size indeed.
Let's see…I also got a refresher in cubic right angle weave.  I'll have to practice a bit more before I do a tutorial on it, though, so I can make sure that I'm teaching in a way that is easily understood.  Well, relatively easy at any rate — cubic RAW is a little trickier than regular RAW.
And, Sabine reminded me of a right angle weave technique I knew about (because I do it on my earrings), but which I had never really applied to my non-earring RAW projects to get them to beautifully straight.  It was one of those "duh" moments where I smacked the side of my head (well, figuratively at any rate).
(I had a moment of pride when Sabine looked at my first row of RAW and remarked, "That's what right angle weave is supposed to look like".  Yay!)
What Will I Pass Along?
First, I won't be doing a tutorial of any kind on Sabine's "Blossom Bezel" — it would not be fair to her, as she worked hard to make the design and then to teach the class.
I will do a video on the RAW technique — it's not something she came up with (and even said so in the class), so that is OK to show you.  And like I said before, I already do it in my earrings.
I will come up with a bling project of my own, using rivolis (and maybe even chatons).  I'll be starting some design ideas this week, so look for a class, probably in the new year.
That's it for now — catch up with you later!