Can-Can Cabochon Necklace Tutorial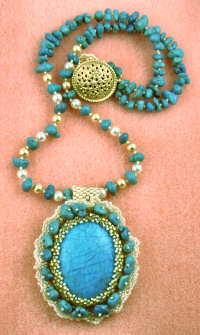 The Cab-Can Cabochon necklace will definitely get you noticed!  If you would like to learn a combination of bead embroidery with peyote stitch, this tutorial is for you!
The Can-Can Cabochon gets its name from the ruffly peyote-stitch skirt that peeks out from behind the embelished cab.  It hangs from a necklace of gemstone beads and Swarovski crystal pearls.
What You Will Learn
So what exactly will you learn in this tutorial?  How about:
Attaching a cab to backing, then building a capture bezel.
Bead embroidery and embellishment.
Ruffled peyote stitching.
Creating a bale.
Stringing the necklace.
Putting all together — beautifully!
And so much more! 
The Can-Can is Versatile!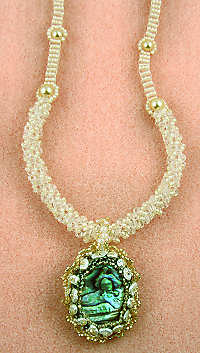 This really is a versatile project, and you can dress it up or down.
For example, you'll see two variations of the Can-Can cabochon, and you'll also learn:Â 
The Russian Spiral stitch.
Ladder stitch with pearl embelishments.
So you don't have to just string the necklace portion — you can also use beadwork if you like.
You can get as elaborate as you like, and just about anything is fair game when it comes to the cabs that you use.
This tutorial is 22 pages long, and has 42 full-color photos, many close-up.  There are hints and tips scattered throughout the tutorial, to  help make your beading project easier and more enjoyable.
Want to See a Little More?
Here you go — a short "hands-on" look at the Can-Can Cabochon, and what is covered in the tutorial.

How to Buy the Tutorial
Your tutorial is delivered as an ebook, so it's an immediate download.  This means you can satisfy your "need to bead" at any time of day or night!
(Keep in mind that while you're not getting a paperback copy in the mail, it also means that you don't have to wait for the mailman — yay!)  Also, because of the nature of this tutorial, there are no refunds.  But I've tried my best to over-deliver for you!
The Can-Can Cabochon is just $4.99, and you'll see all the wonderful ways to make your own beautiful jewelry.  You'll get all kinds of compliments, and you'll be able to proudly say, "Yes, I made this myself!"
So click the "Add to Cart" button below and you're on your way to making your very own Can-Can Cabochon necklace.  It's secure and you can safely pay with any major credit card.  You'll receive the download link in an email lickety-split after you place your order.
Thanks so much and I hope you enjoy making this piece of beaded jewelry!
2 Responses to Can-Can Cabochon Necklace Tutorial