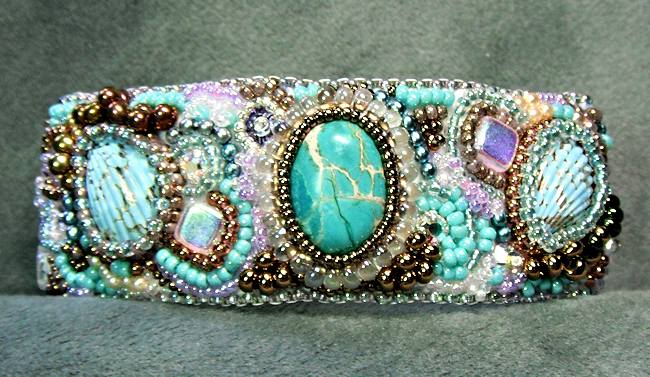 Welcome, everyone, to the wonderful world of beaded jewelry!  I'm Gail Nettles, your hostess, and I'm here to teach you how to make beaded jewelry. In these pages you'll find both video and ebook tutorials, along with some eye candy. And I hope a little dose of fun!

Beaded Jewelry, Then and Now
Beaded jewelry has been a part of my life for years.  And when I think about it, it goes all the way back to when I was a child, with macrame, stringing and just being fascinated with the colors, textures and shapes.
For many years I abandoned beaded jewelry, except pearls, in my corporate "dress for success" phase.  After a few years of that, I realized I needed some fun and color back in my life (can you tell I am inspired by color?).
(You can read more about my beading life on the About Me page.)
I've come to realize that no matter what beading style you prefer, it's all about what you like to create.  Hopefully, it's a fun and rewarding part of your life, too.
So onward to the beading information!
Beaded Jewelry 101, 202, 303 and More – Tutorials!
I love looking at photos of other people's jewelry, don't you?  I get inspired by designs, wondering, "how did they do that?" and then trying my hand at the design.  More often than not I fail, but I usually still create something I can proudly wear.
Well, I will have photos for you to enjoy.  And I'm also creating tutorials for those of you who like a design and want to know just how to make it.  Some are free, some cost a tiny sum — but I think you'll find them worthwhile.  And I also have some free video tutorials of some of the basics of beaded jewelry.
Beaders of all levels are welcome in my "Projects" tutorials!  I'll have beginner, intermediate, advanced and try-this-at-the-risk-of-your-sanity projects.  :)  Most are in the intermediate range, though.
And let's not forget about my free "Basics" tutorials!
Every so often I do stray into another area, like Viking Knit jewelry, because I adore Viking Knit chains as necklaces for pendants.  Not to mention having beads included in the styles!
What Kinds of Jewelry?
Oh boy, if there is a beading style that I haven't tried, I don't know what it is!  In these pages I'll cover beadweaving (primarily seed beads), stringing, bead embroidery, wire jewelry, chain maille and more.
In other words — a lot of different jewelry styles and techniques.
So kick back, get comfortable, and enjoy the wonderful world of beaded jewelry!
I've had a post previously about seed bead sizes and colors.  This is an update, because seed beads are a moving target!  In this post, we'll talk a little more about seed beads, and a little further down, I have a video so you can perhaps better get an idea of some of the sizes and colors that are available.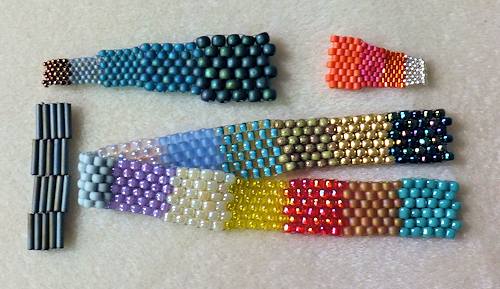 I'll also talk about the shapes of seed beads — traditional, cylinder, charlotte and bugle.  (I'll do a separate post on all the other neat shapes available these days.)
Seed Bead Shapes
First, you need to know shapes.  Why you may ask?  Glad you asked, because not all seed bead shapes are good for all bead weaving stitches.  Let me rephrase that — some shapes are better than others for certain beading stitches.  Each shape has their pros and cons, so let's get started.
Traditional Round
These are your doughnut shaped beads.  There are two main origins for these beads — Japan and the Czech Republic.  In general, the Japanese beads are a bit more consistent in shape and hole size.  They also come in far more colors.  The Czech beads come in fewer colors and are more irrecgular.  However, this is changing, because I am seeing some gorgeous multi-colored beads coming out of the Czech Republic.
Whenever you see "seed beads" in a supply list, unless specified differently, it generally means the traditional rounds.
The traditional round beads are good with any beading stitch.  Keep in mind the variations of the individual beads — depending on your project, you may need to sort through your beads and take out the ones that are noticeably larger, smaller or more irregular.
Cylinder
These are usually known as "Delica" and are made by Miyuki in Japan.  However, Toho (also Japan) makes a cylinder bead as well, called "Aiko".  They are both very regular in size and shape.
Cylinder beads are like teeny-tiny tubes.  They also have a larger hole than do similarly-sized round beads.  The cylinder beads are slightly smaller than the traditional round — a size 11 Delica or Aiko is more like a size 12 traditional round bead.
Best uses for cylinder beads are stitches like peyote, brick, ladder and square.  They aren't as good for herringbone or right angle weave.
Charlotte
The vast majority of the charlotte beads come from the Czech Republic, but Miyuki also makes some charlottes.  This kind of seed bead is characterized by a single facet cut into one side of the bead.  They are also typically irregular in shape…which makes them a great choice for organic looks!
Charlotte beads are typically very small — sizes 12, 13 and 15 – although I have rn across some size 8 charlottes.  The holes are tiny in the beads coming out of the Czech Republic, and a slight bot larger in the Miyuki beads.  Don't expect to get all that many passes with a needle and thread through these seed beads.
You can use charlottes anywhere you use the traditional round beads, as long as you either use a very fine needle and thread, or use a stitch that doesn't involve a lot of passes through the beads.
Bugle
Bugles have been around for quite awhile, and they have definitely evolved over time.  These are cylinders to the max, so to speak — thin tube-shaped beads.
As for colors, don't expect a huge range.  You should find all the "usual colors", but there are a lot of more specialized colors that aren't available.
Bugles can be readily used in peyote, square, brick and ladder.  Not so much the others, except for special effects.
Time for the Video
I've gone on quite a bit just on the different kinds of "regular" seed beads, so I won't go into colors in this post.  You'll be able to see good examples in the video.
One kind of color finish I didn't mention in the video is dyed.  There are some absolutely gorgeous dyed colors in seed beads, but avoid them unless your piece will not be handled.  And won't get wet or sit in bright sunlight.  Yes, the color wears off, and can bleed.
Although I say it in the video, it bears repeating — if you are buying galvanized beads, look for those marked as permanently galvanized (also sometimes called "permanent finish").  Don't buy the regular ones –the beautiful metallic coating will rub off, probably the first time you wear your jewelry.  Permanently galvanized beads hold up very well, though.
That's it for now — stay tuned for the video on the myriad new shapes of seed beads — triangles, drops, cubes and the cool two-hole beads (to mention a few).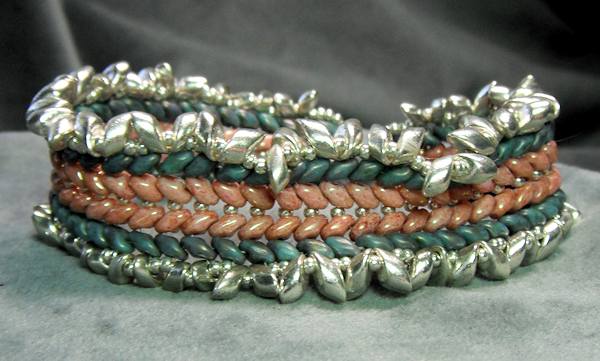 How about another herringbone bracelet made with Superduo beads?  This video tutorial shows you how to use these cool beads in a bracelet project that has you seeing double. 

I'm glad that I bought a whole bunch of the Superduo beads when I found them on sale, so I can continue making new projects!
What's Double Herringbone?
Well, I probably just made up the title to fit this project.  I call it double herringbone for two reasons.
There are two columns of herringbone running lengthwise.
There is a fringe that has a herringbone look to it.
In any case, it's a fun project, and it actually does work up pretty fast.  It's more substantial than my original herringbone Superduo bracelet tutorial, so if you want something a little more eye-catching, this may be it for you. 

Supplies and Video Tutorial
Of course, you will need plenty of Superduo beads for this project.  The bracelet I made is about 7.5″, and it used about 20 grams of the beads.  And another sun bead you'll use is the 4x7mm magatama beads.
Click the video icon and it will expand to a normal size.  Then click again and it magically begins playing.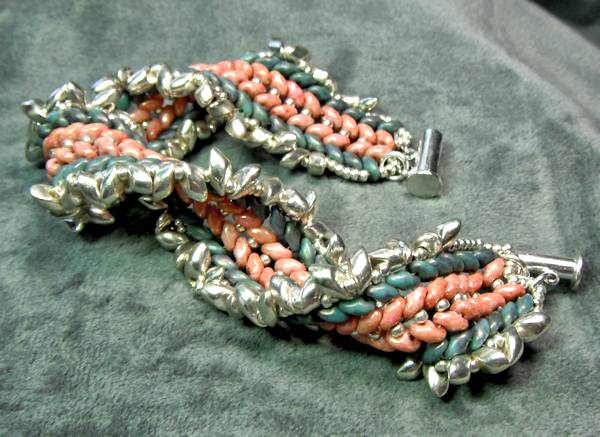 As far as supplies go, you will need the following:
10 grams Superduo beads, Ruby Luster
10 grams Superduo beads, Copper Turquoise
12 grams 4x7mm Magatama beads, Platinum
2 grams size 11 seed beasds, permanently galavanized silver
Clasp of your choice (I use a magnetic tube clasp in the video)
4 jump rings, 3.5mm inside diameter
Thread of your choice (I am using One-G in the video in Beige)
Size 11 beading needle (size 12 would also work)
Scissors and/or thread burner
Beeswax or micro-crystalline wax to make the thread "stickier"
I rarely use beeswax or other thread conditioners, but I found it to be necessary for this project.  The Superduo beads get very slippery while you are doing the double row of herringbone.  I tried it several times without using the micro-crystalline wax, then finally gave up and waxed my thread.  Ahhh, success!   Just don't use Thread Heaven for this project, because Thread Heaven doesn't make the thread "grab" the beads.
I hope that you have enjoyed this video!  Please go ahead and check out all the other neat projects and tutorials on this site…and get beading!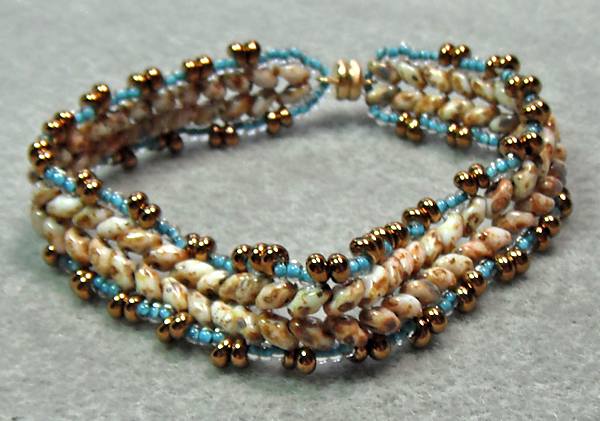 This superduo bracelet tutorial features the herringbone beading weave.  Right now, the Czech Superduo beads are all the rage, but what can you do with them?  They are two-holed beads, so they can't be used in traditional weaves.  Or can they?
This bracelet shows that the herringbone weave for beading can quite nicely accommodate the new 2-hole beads.  What's more, it works up very quickly, especially when done 2 beads across.
If you'd like to make your own bracelet, you'll find a supply list and the video tutorial below. 

First, a Review of the Beads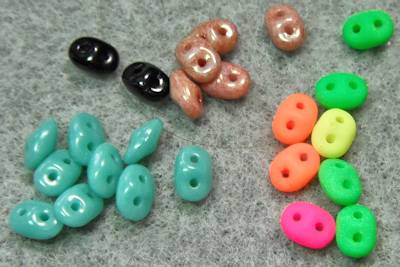 Here's a quick review of the beads.  These are from the Czech Republic and they have an unusual shape.  Overall, you could call them oval-shaped, but in profile they are raised in the center and tapered on the end.
Note:  There are three (at the time of this writing) "versions" of the Superduo; the original and two variants.  The variants are thicker on the ends, instead of being tapered.  And while they are very nice beads in their own right, they are not necessarily interchangeable with the Superduos.  The most common one that I have seen is called the Twin bead, and it's made by the Czech firm Preciosa.
The colors of the Superduos include neon (a few of which are in the photo), as well as traditional colors and some of the new color treatments like Vega, Picasso, Travertine and many others.
Now on to the supply list and tutorial!
Supply List and Video Tutorial
Here are the supplies that you will need for the bracelet in the tutorial, as well as the colors in the other two examples I have in the video.
And speaking og the video, you can click on the video icon to your left and it will expand to a larger size. 

And of course, when you are done watching, please take a look at some of the other videos and projects on this website!  In particular the Basics page and the Project Tutorials pages have lots more to see and do! 

Video Project Supplies
10 grams Superduo beads, Chalk Travertine
< 2 grams magatama beads, Bronze
< 2 grams size 11 seed beads, turquoise colorlined clear
Thread of your choice (I used One-G in Beige)
Clasp of your choice (I used a magnetic clasp)
Beading needle, size 11 or 12 suggested
Scissors
Thread Burner (totally optional)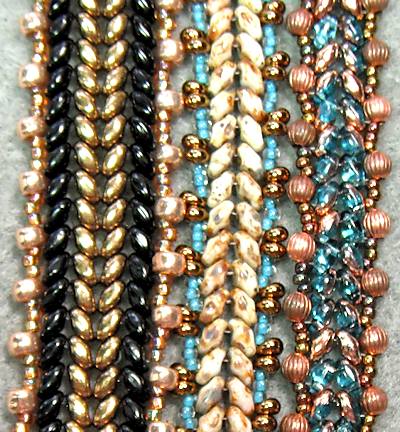 Double Herringbone Example
10 grams Superduo beads, Turquoise
10 grams Superduo beads, Black
< 2 grams size 11 seed beads, topaz AB
< 3 grams size 6 seed beads, copper-color
Thread of your choice (I used One-G in Beige)
Clasp of your choice (I used a copper toggle clasp)
Beading needle, size 11 or 12 suggested
Scissors
Thread Burner (totally optional)
Example With Corrugated Copper Breads
10 grams Superduo beads, Aqua Apollo Gold
< 2 grams size 11 seed beads, topaz AB
40 – 50 3mm beads, copper
Thread of your choice (I used One-G in Beige)
Clasp of your choice (I used a copper magnetic clasp)
Beading needle, size 11 or 12 suggested
Scissors
Thread Burner (totally optional)