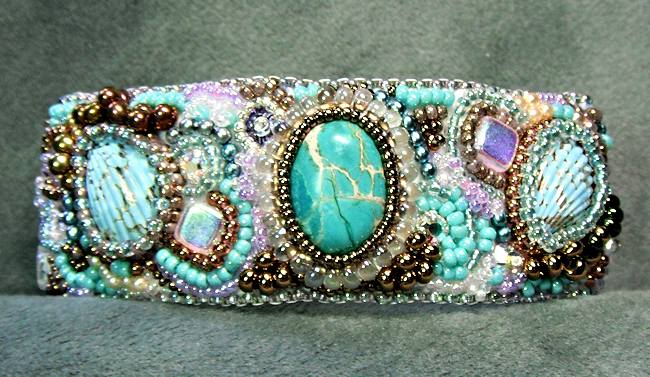 Welcome, everyone, to the wonderful world of beaded jewelry!  I'm Gail Nettles, your hostess, and I'm here to teach you how to make beaded jewelry. In these pages you'll find both video and ebook tutorials, along with some eye candy. And I hope a little dose of fun!

Beaded Jewelry, Then and Now
Beaded jewelry has been a part of my life for years.  And when I think about it, it goes all the way back to when I was a child, with macrame, stringing and just being fascinated with the colors, textures and shapes.
For many years I abandoned beaded jewelry, except pearls, in my corporate "dress for success" phase.  After a few years of that, I realized I needed some fun and color back in my life (can you tell I am inspired by color?).
(You can read more about my beading life on the About Me page.)
I've come to realize that no matter what beading style you prefer, it's all about what you like to create.  Hopefully, it's a fun and rewarding part of your life, too.
So onward to the beading information!
Beaded Jewelry 101, 202, 303 and More – Tutorials!
I love looking at photos of other people's jewelry, don't you?  I get inspired by designs, wondering, "how did they do that?" and then trying my hand at the design.  More often than not I fail, but I usually still create something I can proudly wear.
Well, I will have photos for you to enjoy.  And I'm also creating tutorials for those of you who like a design and want to know just how to make it.  Some are free, some cost a tiny sum — but I think you'll find them worthwhile.  And I also have some free video tutorials of some of the basics of beaded jewelry.
Beaders of all levels are welcome in my "Projects" tutorials!  I'll have beginner, intermediate, advanced and try-this-at-the-risk-of-your-sanity projects.  :)  Most are in the intermediate range, though.
And let's not forget about my free "Basics" tutorials!
Every so often I do stray into another area, like Viking Knit jewelry, because I adore Viking Knit chains as necklaces for pendants.  Not to mention having beads included in the styles!
What Kinds of Jewelry?
Oh boy, if there is a beading style that I haven't tried, I don't know what it is!  In these pages I'll cover beadweaving (primarily seed beads), stringing, bead embroidery, wire jewelry, chain maille and more.
In other words — a lot of different jewelry styles and techniques.
So kick back, get comfortable, and enjoy the wonderful world of beaded jewelry!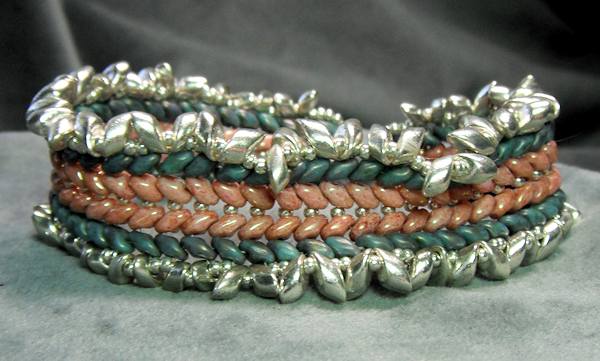 How about another herringbone bracelet made with Superduo beads?  This video tutorial shows you how to use these cool beads in a bracelet project that has you seeing double. 

I'm glad that I bought a whole bunch of the Superduo beads when I found them on sale, so I can continue making new projects!
What's Double Herringbone?
Well, I probably just made up the title to fit this project.  I call it double herringbone for two reasons.
There are two columns of herringbone running lengthwise.
There is a fringe that has a herringbone look to it.
In any case, it's a fun project, and it actually does work up pretty fast.  It's more substantial than my original herringbone Superduo bracelet tutorial, so if you want something a little more eye-catching, this may be it for you. 

Supplies and Video Tutorial
Of course, you will need plenty of Superduo beads for this project.  The bracelet I made is about 7.5″, and it used about 20 grams of the beads.  And another sun bead you'll use is the 4x7mm magatama beads.
Click the video icon and it will expand to a normal size.  Then click again and it magically begins playing.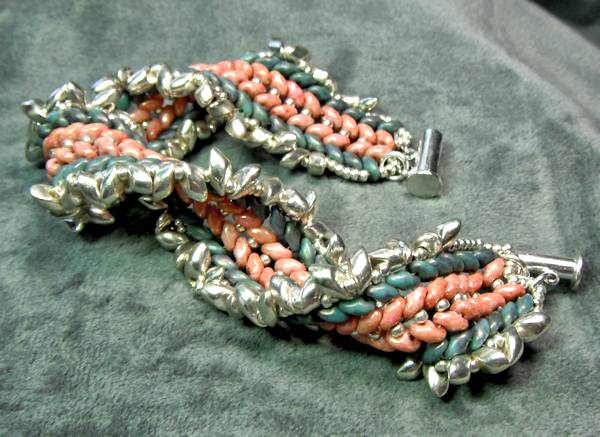 As far as supplies go, you will need the following:
10 grams Superduo beads, Ruby Luster
10 grams Superduo beads, Copper Turquoise
12 grams 4x7mm Magatama beads, Platinum
2 grams size 11 seed beasds, permanently galavanized silver
Clasp of your choice (I use a magnetic tube clasp in the video)
4 jump rings, 3.5mm inside diameter
Thread of your choice (I am using One-G in the video in Beige)
Size 11 beading needle (size 12 would also work)
Scissors and/or thread burner
Beeswax or micro-crystalline wax to make the thread "stickier"
I rarely use beeswax or other thread conditioners, but I found it to be necessary for this project.  The Superduo beads get very slippery while you are doing the double row of herringbone.  I tried it several times without using the micro-crystalline wax, then finally gave up and waxed my thread.  Ahhh, success!   Just don't use Thread Heaven for this project, because Thread Heaven doesn't make the thread "grab" the beads.
I hope that you have enjoyed this video!  Please go ahead and check out all the other neat projects and tutorials on this site…and get beading!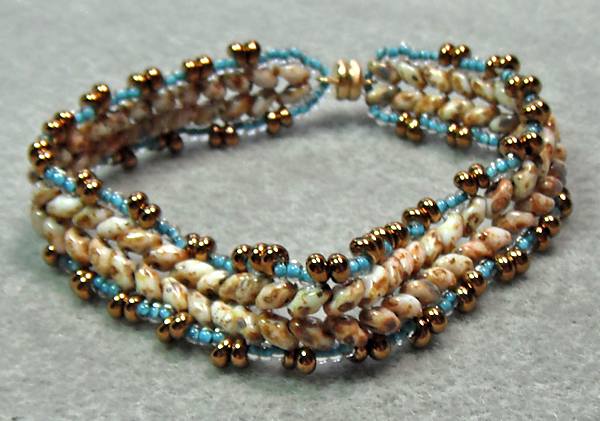 This superduo bracelet tutorial features the herringbone beading weave.  Right now, the Czech Superduo beads are all the rage, but what can you do with them?  They are two-holed beads, so they can't be used in traditional weaves.  Or can they?
This bracelet shows that the herringbone weave for beading can quite nicely accommodate the new 2-hole beads.  What's more, it works up very quickly, especially when done 2 beads across.
If you'd like to make your own bracelet, you'll find a supply list and the video tutorial below. 

First, a Review of the Beads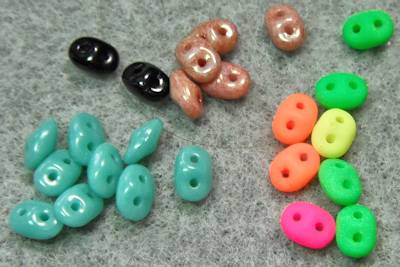 Here's a quick review of the beads.  These are from the Czech Republic and they have an unusual shape.  Overall, you could call them oval-shaped, but in profile they are raised in the center and tapered on the end.
Note:  There are three (at the time of this writing) "versions" of the Superduo; the original and two variants.  The variants are thicker on the ends, instead of being tapered.  And while they are very nice beads in their own right, they are not necessarily interchangeable with the Superduos.  The most common one that I have seen is called the Twin bead, and it's made by the Czech firm Preciosa.
The colors of the Superduos include neon (a few of which are in the photo), as well as traditional colors and some of the new color treatments like Vega, Picasso, Travertine and many others.
Now on to the supply list and tutorial!
Supply List and Video Tutorial
Here are the supplies that you will need for the bracelet in the tutorial, as well as the colors in the other two examples I have in the video.
And speaking og the video, you can click on the video icon to your left and it will expand to a larger size. 

And of course, when you are done watching, please take a look at some of the other videos and projects on this website!  In particular the Basics page and the Project Tutorials pages have lots more to see and do! 

Video Project Supplies
10 grams Superduo beads, Chalk Travertine
< 2 grams magatama beads, Bronze
< 2 grams size 11 seed beads, turquoise colorlined clear
Thread of your choice (I used One-G in Beige)
Clasp of your choice (I used a magnetic clasp)
Beading needle, size 11 or 12 suggested
Scissors
Thread Burner (totally optional)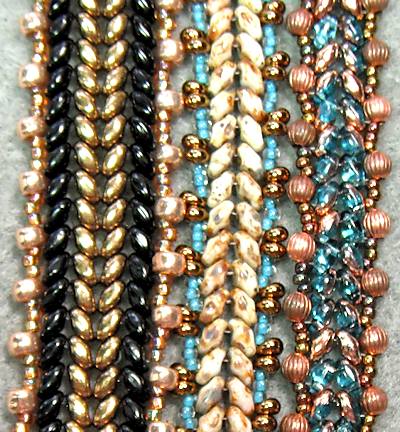 Double Herringbone Example
10 grams Superduo beads, Turquoise
10 grams Superduo beads, Black
< 2 grams size 11 seed beads, topaz AB
< 3 grams size 6 seed beads, copper-color
Thread of your choice (I used One-G in Beige)
Clasp of your choice (I used a copper toggle clasp)
Beading needle, size 11 or 12 suggested
Scissors
Thread Burner (totally optional)
Example With Corrugated Copper Breads
10 grams Superduo beads, Aqua Apollo Gold
< 2 grams size 11 seed beads, topaz AB
40 – 50 3mm beads, copper
Thread of your choice (I used One-G in Beige)
Clasp of your choice (I used a copper magnetic clasp)
Beading needle, size 11 or 12 suggested
Scissors
Thread Burner (totally optional)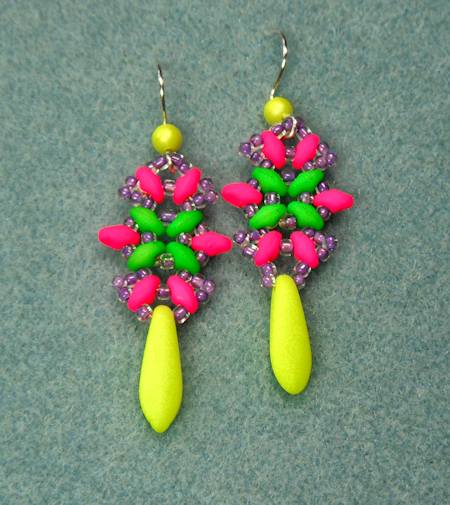 This Starflower video tutorial with Superduo beads came about because I had bought a bunch and then…what do I actually do with them?  The shape seemed to lend itself well to right angle weave, but I wasn't sure that was the direction I wanted to go.  Hmmm, why not just play around and see what happens?
So I started with right angle weave, then decided to go another way altogether.  Voila!  The starflower was born!
About Superduo Beads
The Superduo beads are from the Czech Republic, and they have two holes instead of one.  They are also somewhat oval in shape; between the shape and the two holes.  The size is 2.5mm x 5mm, and it seems like these seed beads can be incredibly versatile.
I have to hand it to the Czech beadmakers — they have really come a long way in the last few years.  The different shapes they are coming out with, and the color combinations they are dreaming up are absolutely to die for!
Very recently they've come out with some neon colors, which is the pair I feature in the video.  I just couldn't resist!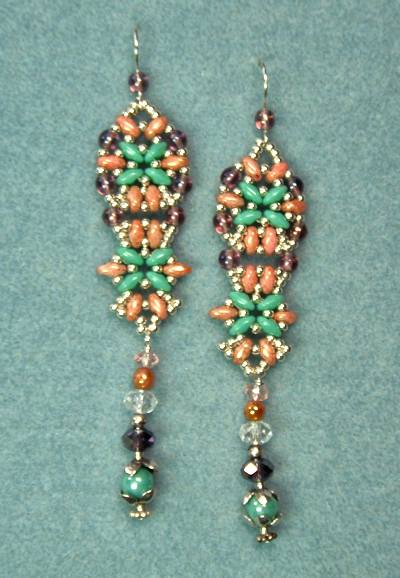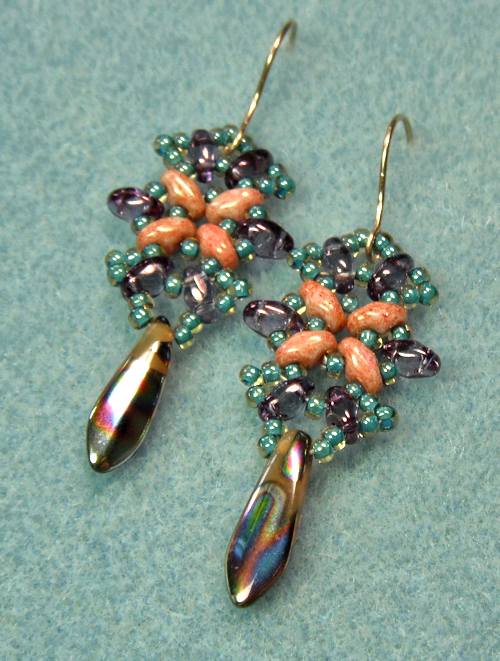 Not a fan of actually wearing neon colors?  Not to worry, the Superduo beads come in more traditional colors, as well as beautiful marbled, metallic and half-coated colors.
Oh, and I also used dagger beads with these earrings in the video beading tutorial.  You can of course skip the daggers or use some other kid of bead or charm in its place.  As you can see in the photo to the left, I have one pair where I used a beaded headpin in place of the dagger.
Video Tutorial
First is the video tutorial, then below are the complete list of supplies needed to make any one of the earrings on this page.
See the video icon?  Click it and it will expand to a more normal size, for your viewing pleasure.
Before I get to the supplies, one word about the needle and thread that I used in the demo.  Typically I use Fireline as my thread of choice, but the Superduo beads can have the thread show at times.  So, this time I have used One-G thread, as it comes in a multitude of colors (although sadly not any are neon).
For the beading needle, I am a big fan of size 11 needles.  The eye of the needle is easier for me to see to thread, and the thickness is suited to most projects.  You can use a size 12 with these earrings, but I wouldn't really suggest a size 10 — although it is possible.
Supplies Needed for the Earrings
In addition to the standard needle, thread, scissors and a pair of pliers for the earring findings, here are the supplies for each of the three earrings.
Neon Earrings
8 Superduos, neon green
12 Superduos, neon pink
2 Dagger beads, 15x5mm, neon yellow
< 1 gram size 11 seed beads, purple colorlined crystal
2 beaded earring findings in silver-filled
Green and Purple Single Starflower Earrings
8 Superduos, ruby luster
12 Superduos, crystal vega
2 Dagger beads, 15x5mm, peacock colors on antique gold
< 1 gram size 11 seed beads, seafoam colorlined crystal
2 earring findings in gold-filled
Turquoise and Pink Double Starflower Earrings
16 Superduos, turquoise
24 Superduos, ruby luster
2 beaded headpins, closed with a wrapped loop.
< 1 gram size 11 seed beads, permanently galvanized silver
12 round beads, 4mm, amethyst AB
2 earring findings in silver-filled
I hope that you enjoy making (and wearing!) your new earrings.  Make 'em in a ton of different color combos.
In the next week or so, I will also have another video that shows how to make starflowers into a bracelet!  So if that tickles your fancy, get busy and create around 10 starflowers (without daggers or bales) in preparation.