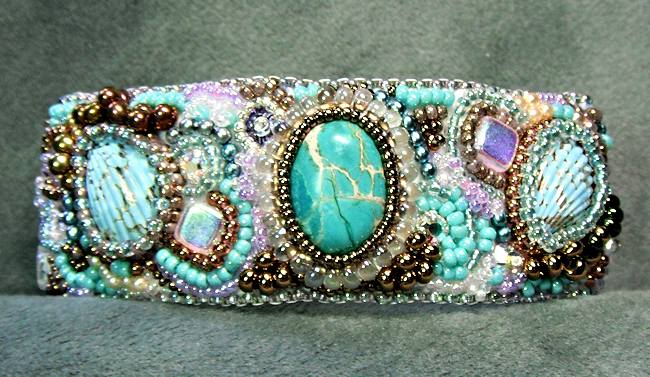 Welcome, everyone, to the wonderful world of beaded jewelry!  I'm Gail Nettles, your hostess, and I'm here to teach you how to make beaded jewelry. In these pages you'll find both video and ebook tutorials, along with some eye candy. And I hope a little dose of fun!

Beaded Jewelry, Then and Now
Beaded jewelry has been a part of my life for years.  And when I think about it, it goes all the way back to when I was a child, with macrame, stringing and just being fascinated with the colors, textures and shapes.
For many years I abandoned beaded jewelry, except pearls, in my corporate "dress for success" phase.  After a few years of that, I realized I needed some fun and color back in my life (can you tell I am inspired by color?).
(You can read more about my beading life on the About Me page.)
I've come to realize that no matter what beading style you prefer, it's all about what you like to create.  Hopefully, it's a fun and rewarding part of your life, too.
So onward to the beading information!
Beaded Jewelry 101, 202, 303 and More – Tutorials!
I love looking at photos of other people's jewelry, don't you?  I get inspired by designs, wondering, "how did they do that?" and then trying my hand at the design.  More often than not I fail, but I usually still create something I can proudly wear.
Well, I will have photos for you to enjoy.  And I'm also creating tutorials for those of you who like a design and want to know just how to make it.  Some are free, some cost a tiny sum — but I think you'll find them worthwhile.  And I also have some free video tutorials of some of the basics of beaded jewelry.
Beaders of all levels are welcome in my "Projects" tutorials!  I'll have beginner, intermediate, advanced and try-this-at-the-risk-of-your-sanity projects. 

  Most are in the intermediate range, though.
And let's not forget about my free "Basics" tutorials!
Every so often I do stray into another area, like Viking Knit jewelry, because I adore Viking Knit chains as necklaces for pendants.  Not to mention having beads included in the styles!
What Kinds of Jewelry?
Oh boy, if there is a beading style that I haven't tried, I don't know what it is!  In these pages I'll cover beadweaving (primarily seed beads), stringing, bead embroidery, wire jewelry, chain maille and more.
In other words — a lot of different jewelry styles and techniques.
So kick back, get comfortable, and enjoy the wonderful world of beaded jewelry!
If you've been trying to find an odd count peyote tutorial with some cool projects, sit tight — I've got something for you!  But before we talk about the projects, let's talk about odd count peyote versus even count.
Even count peyote is a beadweaving stitch that is usually one of the very first that people learn, when getting into beading.  It's easy and there are no funky "extra steps" like you might see in square stitch or right angle weave.  No doubt about it, even count is straightforward.  But there's a problem — you can't make a project with a centered design.
Odd count peyote does allow a centered design, and gives you greater freedom of design.  The problem?  On odd-number rows, there is a funky turn that can be frustrating to learn (but easy once you've mastered it).
(Actually, there's an easy way to do that turn — more about that in a minute.)
The point is this – by learning odd count peyote, you expand your beading world.  Not to mention, you can do some pretty cool projects!
About the Tutorial
So, what about this tutorial?  First, you get three main projects, with alternate ideas as well.  The three bracelets you'll learn to make are:
Confetti Fun:  This bracelet is a starting point to mastering odd count peyote.  You learn how to do odd-count with an easy pattern that lets you become confident with that odd-row turn!
Slither:  Slide into the world of odd count peyote using two-hole beads.  To make a pun, it's a "hole" new way of looking at (and working with) odd count.  Every time I wear this bracelet, I get compliments on it!  You'll learn two ways to make this bracelet, with additional ideas as well.
There be Dragons!:  Get ready to try your hand with two hole triangle beads, which gives the impression of a dragon's scales.  Also learn to accent your bracelet with a Czech button, for a clasp that truly compliments the bracelet.
You will be able to adapt what you learn in any bracelet to any other bracelet.  Do if you like the clasp on one, with embellishments like one of the others, you'll be able to mix and match.
And you will learn the easy way to make the odd-row turn!
The cost of the tutorial is just $9, and you get 47 pages and 86 photos, most of them very close up — you see exactly where you need to put your needle and beads!
(If you are reading this on a translated page, please know that this tutorial is written in English.)
Note:  This book is in PDF form, and is only available by downloading.  However, you get this ebook immediately after purchasing — you will see a link on your invoice, and you'll also get an email with the same link.  The file is about 2 MB in size.
I created this ebook all by myself — I took the photos and wrote all the text.  Good or bad — it's all mine, LOL!  (I hope that you consider it very good though.)
I do my absolute best to over-deliver and give you an excellent value for your money.

To get this ebook digitally delivered (i.e., you get it immediately), simply click the "Add to Cart" button above.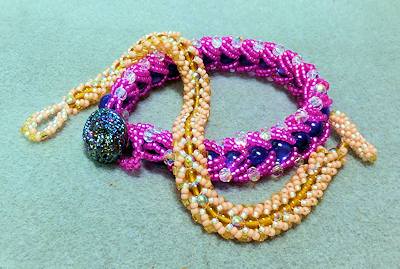 If you've never done the flat spiral bead weaving, I hope you'll find this interesting and fun.  You'll learn how to make the flat spiral in a video, and then you'll see more information on how I made these two bracelets.
Ready, set…let's bead!
Supplies Needed and Video
You don't need a lot by way of supplies.  For the video I used:
Size 6 seed beads in silver
Size 11 seed beads in a matte pink
Size 11 triangle seed beads, in silver-lined peridot
Needle; I used a size 12, but you could use a size 11 and possibly even a 10.
Thread; I used One-G, but use the thread of your choice.
As I mentioned in the video, I only used about a 3-foot length of thread for the demo.  For a real project like a bracelet, I recommend at least a 6-foot length of thread, as it's a bit on the tough side to end a thread and start another when working with the flat spiral weave.
Click on the video thumbnail to expand the video to normal size, and then watch it.
Information on the Two Demo Bracelets
I did say in the video that I had more info on the two demo bracelets, what I used to make them.  Here you go!
Beige (Sand) Bracelet:  I used size 11 Japanese seed beads, in two colors — light beige colorlined clear and matte shrimp.  For the center bead, I used 4mm Czech druk (round) beads, in topaz AB.  I also used some size 11 gold triangle beads (made by Toho).
Start by stringing on a stop bead and two druk beads.  For your side beads (the "butterfly wings", so to speak) use a size 11 light beige, two matte shrimp, the triangle, two matte shrimp and one light beige.  Run your needle through the bottom hole of the bottom druk bead.  Run your needle up through the two druk beads, and use the same color pattern on the other side.
Pink and Purple Bracelet:  I used size 11 Japanese seed beads n matte silver-lines bright pink  For the center bead, I used 8mm  round purple cat's eye beads.  I also used some 4mm clear crystal beads.  Although I said in the video they were round Swarovski crystals, upon looking at them again, I am more inclined to think they are Czech crystals, as they are not totally round.  You can use 4mm fire-polished beads as a good substitute.
Important:  Your center bead needs to have a good-sized hole, because you are going to pass your needle and thread through the hole six times.
Start by stringing on a stop bead and two 8mm beads.  For your side beads (the "butterfly wings", so to speak) use six size 11 pink beads, the crystal and six more size 11 pinks.  Run your needle through the bottom hole of the bottom 8mm bead.  Run your needle up through the two 8mm beads, and on the same side, string on another six size 11 pink beads.  Run your needle through the crystal that you strung on in the previous pass, then add six more pink beads.  Pass your needle up through the bottom hole of the bottom 8mm bead and do the same pattern on the other side.
If you want to learn tubular herringbone, I've got a video for you. 

  And in fact, it's a two for one, since you'll see a mini-tut for flat herringbone (which is how I start the tubular).
What else?  I show you some examples of tubular herringbone jewelry that I've made in the past, and I'll list out some of the supplies I used for the projects.
Supplies for the Tubular Herringbone Demo
The supplies you'll need (if you want to make exactly what I did in the demo are):
Size 8 seed beads, opaque turquoise
Size 8 seed beads, permanently galvanized gold
Thread of your choice; I used One-G, but use what you like best
Beading needle; I used a Tulip size 12, but you can use any beading needle, size 10, 11 or 12.
(I'll list the supplies for the various projects in the next section.)
Click on the video to the left; it will expand to be a normal size for watching. 

Supplies I Used for the Jewelry
Bracelet 1 (blue and topaz):   I used two sizes of Japanese seed beads.  You may notice that the beads are more tubular than donut-shaped, and that is because I happen to use some inexpensive Japanese seed beads.  I personally prefer (at least these days) to use the more donut-shaped seed beads.
For the bracelet, start with the size 11 blue beads.  Make the tube 5 columns around and for 7 rounds high.  Then change to using the size 8 topaz beads for three rounds.  Then, change back to the size 11 seed beads.  Repeat until the tube is as long as you like.  Add the clasp of your choice.
Bracelet 2 (3 different sizes of seed beads):  I did say I used three different sizes of seed beads, and this time I used some better-quality Japanese seed beads.  Begin by creating a tube four columns wide by three rows high with size 11 seed beads.  Then, do three rows of size 8 seed beads.  Follow this with two rows of a size 6 and size 11 (stitched as a unit) and one row of size 6.  Move back down to a size 8 for three rows, then back to three rows of size 11.  Repeat until you have your project the length you want.  Add the clasp of your choice.
Necklace:  I used permanently galvanized size 11 seed beads by Toho.  Miyuki also makes some permanently galvanized seed beads, called Duracoat.  It's important that you use permanently galvanized, because the ordinary galvanized will have the finish start to wear off before you complete  the necklace!!!
The tube is 2 columns wide, which makes it very narrow — about 4 to 4.5 mm in diameter.  The magnetic clasp I used was 5mm in diameter, which is ever so slightly wider.  Then, you can add some large-hole beads.  The easiest (if you want to make some) is to string together some 3 mm or 4 mm fire-polished beads, and run the needle and thread back through all the beads to make a circle slightly more than 5 mm in diameter.
 Tips for Tubular Herringbone
Herringbone in general tends to show the thread more than most other beading stitches.  Try to match your thread color to your bead color as much as possible.  If you are using several different colors, match to the dominant color.
If you find that you've created your tube too wide around and it collapses, you can either thread a piece of flexible cording through your piece to stabilize it, or your can take advantage of the collapse and make it into a rectangle shape.  A third way to stabilize it is to sew some embellishments around the tube; it will tighten it up.
I hope you've enjoyed this tutorial!