Welcome, everyone, to the wonderful world of beaded jewelry!  I'm Gail Nettles, your hostess, and I'm here to teach you how to make beaded jewelry. In these pages you'll find both video and ebook tutorials, along with some eye candy. And I hope a little dose of fun!

Beaded Jewelry, Then and Now
Beaded jewelry has been a part of my life for years.  And when I think about it, it goes all the way back to when I was a child, with macrame, stringing and just being fascinated with the colors, textures and shapes.
For many years I abandoned beaded jewelry, except pearls, in my corporate "dress for success" phase.  After a few years of that, I realized I needed some fun and color back in my life (can you tell I am inspired by color?).
(You can read more about my beading life on the About Me page.)
I've come to realize that no matter what beading style you prefer, it's all about what you like to create.  Hopefully, it's a fun and rewarding part of your life, too.
So onward to the beading information!
Beaded Jewelry 101, 202, 303 and More – Tutorials!
I love looking at photos of other people's jewelry, don't you?  I get inspired by designs, wondering, "how did they do that?" and then trying my hand at the design.  More often than not I fail, but I usually still create something I can proudly wear.
Well, I will have photos for you to enjoy.  And I'm also creating tutorials for those of you who like a design and want to know just how to make it.  Some are free, some cost a tiny sum — but I think you'll find them worthwhile.  And I also have some free video tutorials of some of the basics of beaded jewelry.
Beaders of all levels are welcome in my "Projects" tutorials!  I'll have beginner, intermediate, advanced and try-this-at-the-risk-of-your-sanity projects. 

  Most are in the intermediate range, though.
And let's not forget about my free "Basics" tutorials!
Every so often I do stray into another area, like Viking Knit jewelry, because I adore Viking Knit chains as necklaces for pendants.  Not to mention having beads included in the styles!
What Kinds of Jewelry?
Oh boy, if there is a beading style that I haven't tried, I don't know what it is!  In these pages I'll cover beadweaving (primarily seed beads), stringing, bead embroidery, wire jewelry, chain maille and more.
In other words — a lot of different jewelry styles and techniques.
So kick back, get comfortable, and enjoy the wonderful world of beaded jewelry!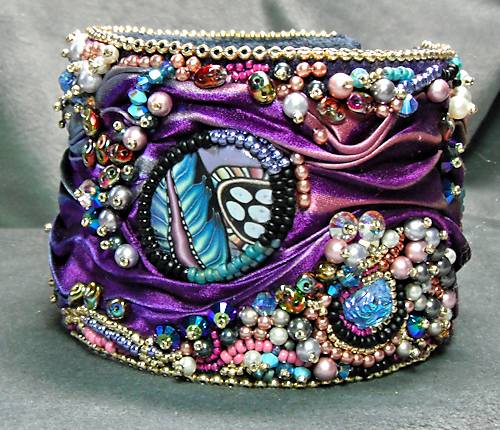 Every time I take a bead embroidery class, I come away full of new ideas.  A couple of weeks ago I took a couple of classes with Sherry Serafini (who, by the way, is as awesome a teacher as she is a beader), and this is the result of one of the classes.  I call this bead embroidery bracelet "Gypsy's Silk".
A Different Look
You'll notice that this is a little different from most bead embroidery; it's closer to being mixed media.  Then again, bead embroidery really is mixed media in a way, since you are beading on some type of fabric or backing.
The difference with this is that silk is being used as part of the bracelet.  It's a type called Shibori, and it's gorgeous!  I am not sure if the silk is pleated, then dyed, or dyed before pleating.  Either way, it's beautiful, as well as intriguing to work with.
So, I have to give Sherry the credit for thinking up this beautiful new style of bead embroidery.  But it's also given me ideas for taking this a step in a different direction.  Which means that I have a whole slew of new projects percolating for my upcoming "Bead Embroidery Components 2″ tutorial.
Where's the Shibori Silk?
While the Shibori silk ribbon in the bracelet above I bought from Sherry (I fell in love with the colors), I had also bought some online from Etsy (one of my favorite places) that was a bit more muted.  But at the class, I discovered that one of my classmates also sold Shibori ribbon, so click here for her site – she has absolutely gorgeous colors too.  (And no, I don't get a commission for recommending her — I just saw with my own eyes what she had with her, so I know it's wonderful.)
Big and Beautiful (If I Say So Myself)
This is a really wide cuff — a little over 2 inches.  But it takes a surprisingly short time to complete.  Of course, part of that is due to the fact that the ribbon takes up a fair amount of space that would normally be covered by beads.  But, that was my idea — Sherry's demo piece had less silk showing.  But since I have never been one to color between the lines, I took my piece in a little different direction.
So that's "Gypsy's Silk".  I had a really hard time naming this piece, but it seems to fit.  Well, I think so at any rate.  So, off to the races (so to speak) and I'll start getting together my next Bead Embroidery Components 2 tutorial — and it will be far more "bling-y" than Intro to Bead Embroidery Components.
So, hope you like this piece, and see you later! 

This is a video tutorial on how to make a simple loops bracelet with beads.  It's a quick and easy project, and it's also a lot of fun!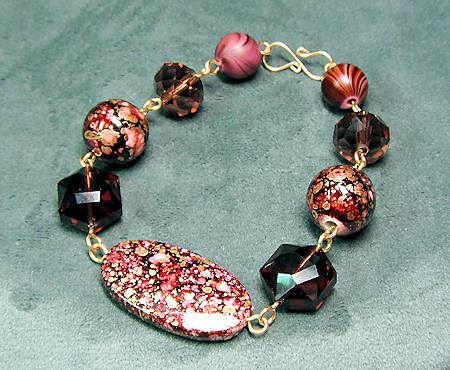 What Are Simple Loops?
Simple loops are circular loops made around a pair of pliers which aren't wrapped; this means you can open and close them easily.  They are great for earrings, necklaces and (of course) bracelets!
There are some things you need to know about beforehand, though, so read on through this page before getting started.
Wire and Wire Gauge
In the tutorial, you will see that I made the simple loops bracelet using dead soft 20 gauge wire in red brass.  It's an inexpensive wire, and it's relatively stiff, which makes it great for learning and for fun jewelry.  You can also use copper, regular brass or artistic wire to practice your simple loops.
However, if you are using sterling or gold-filled wire, I would suggest either using half-hard in 20 gauge, or move up in thickness to 18 gauge.  This is because since the loops aren't wrapped, they could loosen if you are rough with your bracelets (like me, LOL).
If you can't locate half-hard wire, you can work-harden it yourself by running a length of wire through a cloth, your fingers or a pair of nylon-jawed pliers.  Run the wire through your cloth/fingers/pliers at least 7 times to make it harder.
Equipment and the Tutorial
To make this bracelet, you'll also need the following equipment — round nose pliers, chain or flat nosed pliers and flush cut pliers.  Oh, and beads as well as a clasp. 

As for the tutorial, see that little video thumbnail to the left?  Click on it and it becomes full size!
I hope you enjoy watching how to make simple loops, and using them to make a bracelet.  Remember to check out my project page, as well as some more tutorials below.  Have fun!
If you want to know how to make beaded earring findings, I've got you covered.  In this video tutorial I will show you how to make these earring findings with wire, and with whatever beads you want to use!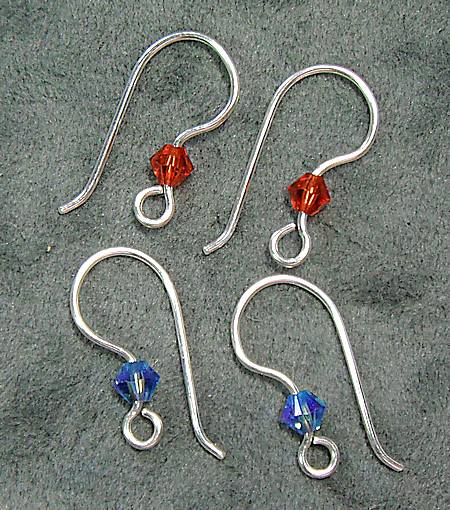 Earring Style
The style of these earrings is called several names.  In the tutorial, I refer to them as "shepherd's hook", but they are also known as fish hook and french hook earrings.
But it doesn't really matter what you call them — they are pretty by any name!
Wire Wrap – What Wire to Use?
In making these earrings using a "wire wrap" or "wirework" technique, wire does matter.  While how the wire looks is one consideration, things like gauge, material and hardness do come into play when making these.
In the video tutorial, I used 20 gauge wire.  It was silver-colored artistic wire, which is great for learning the technique.  Copper and red brass are also good alternatives for learning.
Once you are comfortable with making the findings, you will probably want to make them in sterling silver, silver-filled, gold-filled or niobium, as these are the metals that are far less likely to have an allergic effect.
(The photo at the top of the page are findings made from sterling silver.)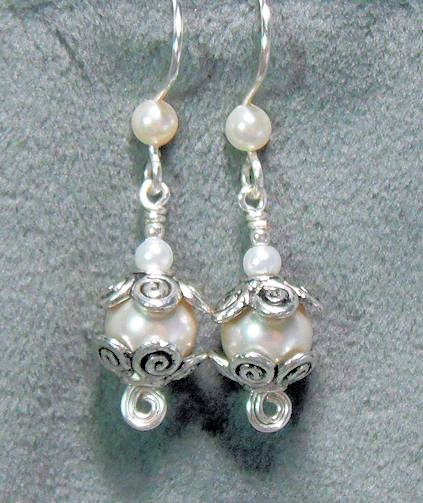 When it comes to gauge, 20 is pretty good.  It's stiff enough (even in dead soft) to hold it's shape well, while soft enough to manipulate easily.  If the wire is really soft (copper or fine silver), you may want to use half-hard.  Or, you can work-harden the wire a bit before you start forming the earrings.
I see a lot of these style earrings for sale in 21, 22 and 24 gauge.  If you have really small holes, you can go 22 gauge, but you'll need either full-hard wire or do some work hardening beforehand.   I don't recommend 24 gauge — it's just too thin, unless you are using something like stainless steel.
And you can certainly go for a thicker wire (19 or 18 gauge), if your earring holes will comfortably accommodate them.
Beads and Sizes
As far as the beads go, it's pretty much whatever you want.  I suggest that you stay between 2 mm and 4mm in size, for comfort and weight sake.
I personally like the Swarovski crystal pearls and bicones for my beads.  They come in so many colors, in both 3mm and 4mm sizes that it's easy to coordinate with your earring dangles, like in the photo with the pearls.
Video Tutorial
You'll see a little video screen; click on it and it expands to regular size.  Then all you need to do is watch the video!
Don't forget to check out some of my other video tutorials — the links are below.   Remember my jewelry projects, too.  Enjoy!