Christmas Tree Earrings – A Video Tutorial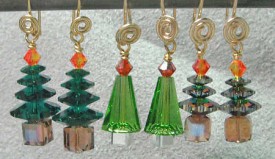 If you like instant gratification projects, Christmas tree earrings have to be close to the top of the list.  They're fast to make, fun to wear and you can make them in all colors.  Greens are a natural, but don't forget other hues!
In the video tutorial you're about to watch, you'll see the pattern that's been around for years, plus a pattern with a newer bead style from Swarovski.
Keep in mind that while I'm demonstrating earrings, you can also make pendants based on these patterns.
Video Tutorial for Christmas Tree Earrings
First, let's go through the list of supplies needed for these earrings.
Pattern#1
Two 4mm bicones
Two 6mm marguerites
Two 8mm marguerites
Two 10mm marguerites
Two 12mm marguerites
Two 6mm cubes
Two headpins
Two earring findings
Pattern #2
Two 12mm artemis beads
Two 4mm bicones
Two 4mm cubes
Two headpins
Two earring findings
For both patterns I used 3mm headpins.  You'll also need a pair of round-nose pliers, and I also suggest a pair of chain nosed pliers to help with making the wrapped loop.
For colors — that is totally up to you!  In pattern #1 I used emerald green for the tree, fire opal for the bicone and light topaz for the cube.  In pattern #2 the artemis is fern green, the cube silver and the bicones once again fire opal.
Now that I've listed the supplies, how about the tutorial itself?  Glad you asked, because here it is!  I hope you enjoy it, and that you'll create a multitude of trees for your holiday!
And as always — if you like this tutorial, go ahead and give it a "like" (thank you kindly).
6 Responses to Christmas Tree Earrings – A Video Tutorial