Right Angle Weave Bracelet Tutorial – Slink Stones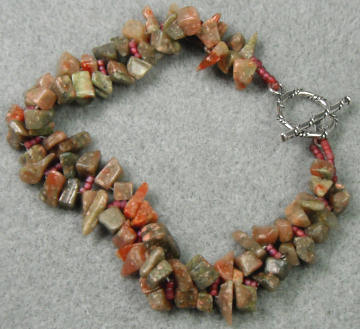 Here's a right angle weave bracelet tutorial for the beaded jewelry piece I call "Slink Stones". It's made with one of the most unique and difficult to use beads – gemstone chips.  Gemstone chips are inexpensive and very textural, but they can be difficult to incorporate into finished jewelry.  Here's a video tutorial for a bracelet done in right angle weave (RAW) that I have titled "Slink Stones".
(The bracelet style name came about because it has a very slinky feel on the wrist.)
RAW is such a versatile beading stitch, with a variety of looks.  It's most often seen with a square-ish structure (like the right angle weave earring tutorial).  However, by using gemstone chips and seed beads, RAW takes on a whole new look.
Supplies Needed
Here are the supplies I used in making the bracelet.
16″ strand of gemstone chips; mine are of a gemstone called "autumn jasper".  I used most of the strand, but had some left over.
Size 11 seed beads, around a gram's worth.
Sterling silver toggle clasp.
Size 10 beading needle.
PowerPro line, 8lb test.
Scissors.
A note on the thread; I used PowerPro fishing line for this bracelet since it is rather heavy.  PowerPro is strong, but thin enough to go several passes through the size 11 seed beads.  It also doesn't stretch.  Fireline or Wildfire can also be used, at 8 lb test.  I do not suggest using anything like nymo, as I can just about guarantee your bracelet will break if you do!
So here you go — the video tutorial for making the "Slink Stones" bracelet. It's about 26 minutes long, so grab yourself something to drink, put up your feet and relax as you watch.
And as always, if you enjoy the tutorial, I'd appreciate if you click the "Like" button on the sidebar. 🙂
11 Responses to Right Angle Weave Bracelet Tutorial – Slink Stones