The Wonderful World of Beaded Jewelry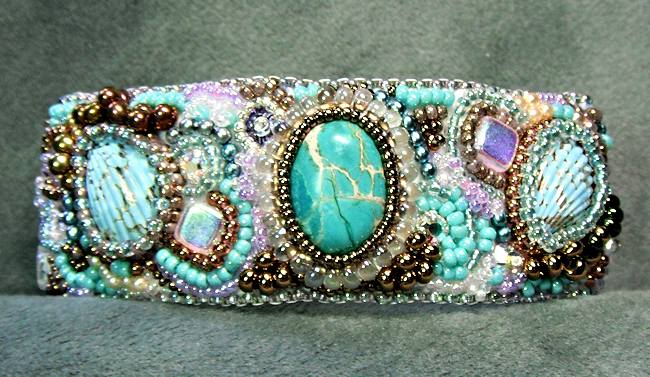 Welcome, everyone, to the wonderful world of beaded jewelry!  I'm Gail Nettles, your hostess, and I'm here to teach you how to make beaded jewelry. In these pages you'll find both video and ebook tutorials, along with some eye candy. And I hope a little dose of fun! 🙂
Beaded Jewelry, Then and Now
Beaded jewelry has been a part of my life for years.  And when I think about it, it goes all the way back to when I was a child, with macrame, stringing and just being fascinated with the colors, textures and shapes.
For many years I abandoned beaded jewelry, except pearls, in my corporate "dress for success" phase.  After a few years of that, I realized I needed some fun and color back in my life (can you tell I am inspired by color?).
(You can read more about my beading life on the About Me page.)
I've come to realize that no matter what beading style you prefer, it's all about what you like to create.  Hopefully, it's a fun and rewarding part of your life, too.
So onward to the beading information!
Beaded Jewelry 101, 202, 303 and More – Tutorials!
I love looking at photos of other people's jewelry, don't you?  I get inspired by designs, wondering, "how did they do that?" and then trying my hand at the design.  More often than not I fail, but I usually still create something I can proudly wear.
Well, I will have photos for you to enjoy.  And I'm also creating tutorials for those of you who like a design and want to know just how to make it.  Some are free, some cost a tiny sum — but I think you'll find them worthwhile.  And I also have some free video tutorials of some of the basics of beaded jewelry.
Beaders of all levels are welcome in my "Projects" tutorials!  I'll have beginner, intermediate, advanced and try-this-at-the-risk-of-your-sanity projects.  :)  Most are in the intermediate range, though.
And let's not forget about my free "Basics" tutorials!
Every so often I do stray into another area, like Viking Knit jewelry, because I adore Viking Knit chains as necklaces for pendants.  Not to mention having beads included in the styles!
What Kinds of Jewelry?
Oh boy, if there is a beading style that I haven't tried, I don't know what it is!  In these pages I'll cover beadweaving (primarily seed beads), stringing, bead embroidery, wire jewelry, chain maille and more.
In other words — a lot of different jewelry styles and techniques.
So kick back, get comfortable, and enjoy the wonderful world of beaded jewelry!
2 Responses to The Wonderful World of Beaded Jewelry