Tassel Pendant Tutorial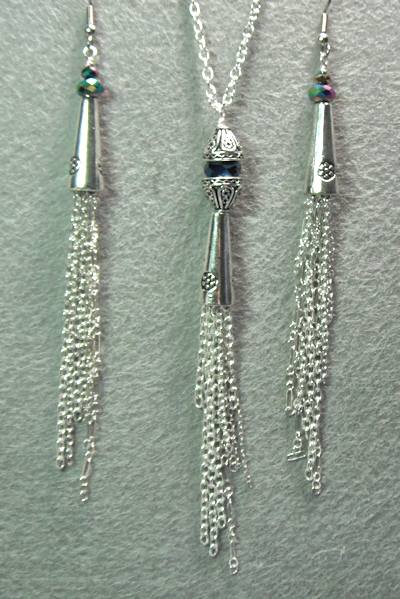 Tassel pendants are fun to create, and if you don't know how to make one, this tutorial is for you!  They are quick and easy, so if you need something to wear and you only have 15 or 20 minutes in which to make it, you'll enjoy this project.
This video tutorial demonstrates how to make the pendant that you see on the right.  You can use the same technique to make earrings, too!
Tassels Have Movement
One of the fun properties of tassel jewelry is that it moves!  The movement catches the light and adds a great deal of interest.
Tassels can also be used in various ways.  You can take the information in the video and use it to create jewelry of all kinds, as well as decoration around the house!  Think of fan pulls, swags for drapes…all kinds of things.
Mix it Up!
I've demonstrated using silver colored metal, but you can use any colors you wish.  Silver, gold, copper, brass, gunmetal…the list goes on and on.  You can mix metals as well for an even different look!
 Tassel Tutorial
So, here is what you will need for the pendant in the tutorial:
One bead cone
Two bead caps
One fire-polished rondel bead, 8mm.
Approximately 24 inches of chain, cut into pieces between 1 inch and 3 inches long each.
Piece of wire, 22 gauge, about 3 to 4 inches.
Necklace chain to use for hanging the tassel pendant around your neck.
(If you want to make the silver earrings, you need 2 cones, 4 fire polished beads (two of each, 6mm and 3mm), 2 pieces of wire, double the chain and two earring findings.)
When you're done, you can check out some of my other tutorials, like the memory wire bracelet, quick dangle earrings or how to make wrapped loops and eyepins.  You can check out the projects page, too, if you want to try your hand at some intermediate and advanced beadwork projects.