SuperDuo Peyote Video Tutorial – Ring Style 2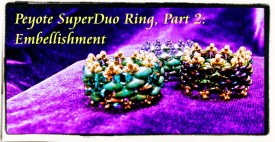 You've probably seen my first SuperDuo peyote ring tutorial (here's the link if you haven't), and so now here is taking that original ring and doing some fun embellishment!
Why Embellish the Ring?
A couple of reasons.  The first is because it's pretty!  The second is because if you made your initial ring a little too big, this embellishment will tighten up your ring a bit.
But also keep that in mind, if your first ring fits just fine.  If that's the case, why not just make a second ring and embellish it instead?!?  😀
After all, it's great to have a variety of rings in different sizes and colors, right?  And they are also kinda like potato chips — it's hard to stop with just one ring.  Well, that was what I found at any rate!
Supplies and Video Tutorial
As to supplies, you'll need some:
SuperDuo beads
Beading needle (I used size 11)
Beading thread (I typically use either Fireline or K-O)
Some size 11 seed beads, in a coordinating or contrasting color.
Relax, put your feet up and I hope you enjoy the video!  Don't forget that this is video 2, and that there are three videos in the series.  🙂