Peyote Ring Video Tutorial 3 – SuperDuos Again!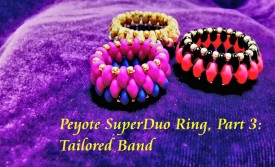 Here's the third free video tutorial for making peyote rings using SuperDuo beads.  This time it's a little different style from the other two, and it has a more traditional / classic look to it.
Whereas previously in video 1 and video 2 you had been constructing the ring vertically, this time you will do it horizontally.  It's a little trickier to start, but it's still pretty easy — not to mention a whole lot of fun!
Why SuperDuo beads and not just regular seed beads?  Mainly because I bought a ton of the 2-hole beads (SuperDuo, Rulla, Brick, etc.) and I wanted to be able to really use them!
The two-hole beads coming out of the Czech Republic have so many neat colors, and they also seem to be just right for using with peyote beading.  Well, herringbone as well, if you watch my bracelet videos, LOL.
Video and Supplies
Supplies are the same as the last video — SuperDuo beads, size 11 seed beads, beading needle and beading thread.
You'll need more SuperDuo beads this time, and less in the way of size 11 seed beads.
So, there you have it — three rings, all a bit different, but using SuperDuos.  I hope that you have enjoyed the videos, and that they inspire you to create your own rings!