Wrapped Loop Earrings With Dangles Tutorial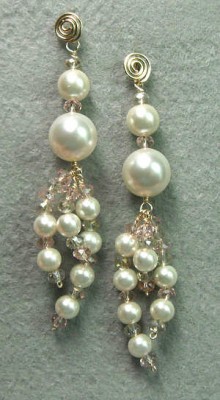 It's time to do a wrapped loop earrings with dangles tutorial, as a follow-up to my Intro to Wrapped Loops video tutorial.  If you don't know how to do the wrapped loops or eyepins, check out the intro tutorial before trying this one.
But if you already know how to do these kinds of wire loops (or if you've just viewed the intro video), then now it's time for making some earrings!  In the video below, you will see that I make 2 pair — same technique, but different looks.
Ingredients (A.K.A. Supplies I Used)
For the first pair of earrings, I used the following supplies:
Two 10mm crystal pearls
Two 8mm crystal pearls
Fourteen 6mm crystal pearls
Six eyepins, red brass, about 3 inches (24 gauge)
Two 5-inch piece of red brass wire, 24 gauge
Eighteen light pink 4mm fire-polished rondells
Sixteen light smoky topaz fire-polished rondells
Pair of earring findings
Pliers:Â  round nose, chain nose
Wire cutter
(I meant to list out all the supplies in the video itself, but I apparently deleted that clip by accident.)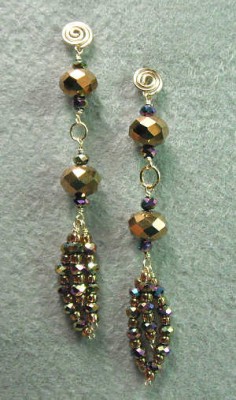 You'll notice  that I am using a fair amount of wire, and that I cut quite a bit off.  Since I am using red brass (which is a darker gold than regular yellow brass), I don't worry about how much I use.  Red brass is pretty inexpensive.
However, if I was doing this in sterling silver or gold-filled wire, I would measure more closely so as to have as little waste as possible.
For the second pair of earrings (shown at the left), I used the following ingredients:
Four 10mm dark bronze fire-polished rondells
Thirty-two 3mm metallic peacock fire-polished rondells
Size 8 seed beads, pink lustered gold
Six red brass eyepins, approximately 3 inches each
Four pieces of red brass wire, each about 4 inches
Two jump rings, gold-plated brass, 5mm each
Pair of earring findings
Pliers:Â  round nose, chain nose and bent-nose
Wire cutter
Other Notes and Video Tutorial
You'll notice that I am using eyepins for the dangles and not headpins.  The reason for that is because I didn't have any headpins in the right gauge!  Since I didn't want to run out to the store, I made my own eyepins.
But yes, you can certainly use headpins if you like.  And you can use 22 gauge wire if you like; you'll get the same basic effect.
I had a lot of fun with making these earrings, and the possibilities are pretty much endless.  I like making the dimensional dangles (as I have come to think of them) because I don't like the standard look where they splay out some.  But naturally, if you don't want to bend the dangles, that is entirely up to you!
All that being said, here's the video — it's a bit over 20 minutes, so you might want to get yourself a beverage and get comfortable, LOL.
And of course, if you enjoyed this video, feel free to like me on Facebook (or anywhere else…).  😉