Hoops and Daggers Earrings Video Tutorial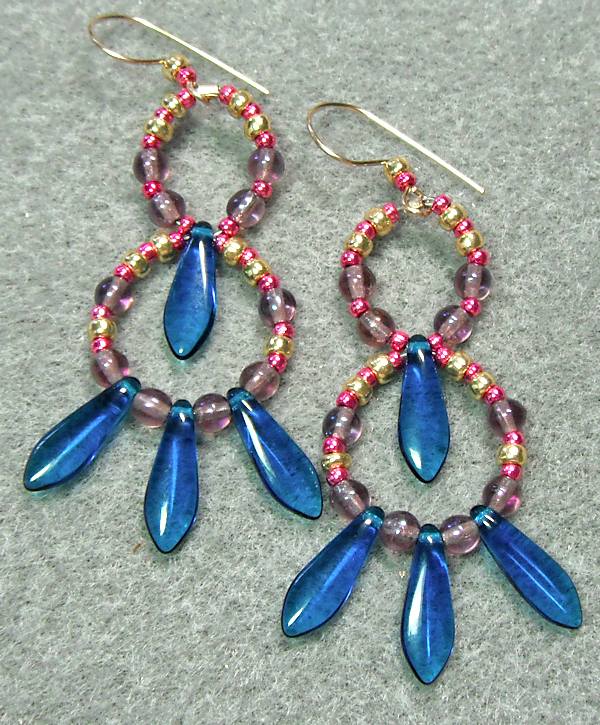 The Hoops and Daggers earrings in this tutorial came about for two reasons.  One, I wanted to play with some of my dagger beads; two, I wanted to experiment more with beading wire and how it's different from beading thread.  There is definitely a difference between making these earrings with wire versus thread!
First, About Beading Wire
So what's the difference between wire, beading wire and beading thread?  And why does it make the projects look different, based on what you use?
Wire is what it sounds like — wire in various gauges, materials and colors.  Examples are sterling silver, copper, gold-filled and artistic.  Using this as your base, you can use the wire to shape the beads into various positions, bends, etc. and it will hold the design.
Beading wire is made from extremely thin strands of cable (usually steel) and coated in nylon.  The resulting wire is quite thin, but very strong.  The number of strands used to make the beading wire determines its flexibility — more strands = greater flexibility.  However, being made with wire to begin with, it holds curves better  than the other two.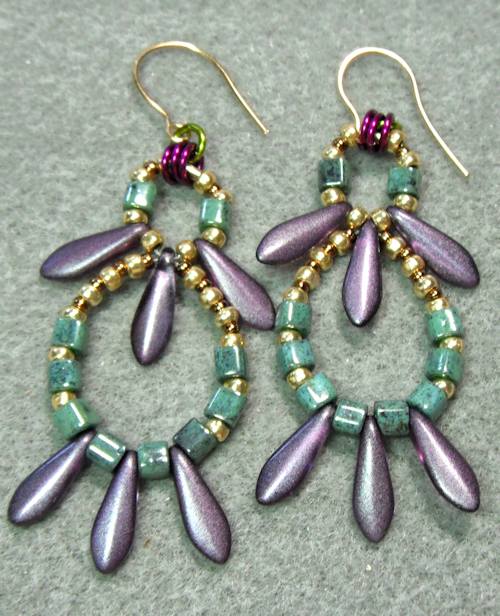 Beading thread is…well…thread!  There are many different types — Fireline, Nymo, K.O., Silamide…the list goes on.  Each thread has its own properties, but they all have much more drapability than beading wire.  It's also a lot thinner than beading wire.  You want to use beading thread for more intricate beadwork, partly because of the flexibility, partly because it is so much thinner and most beads can take many passes with the thread — and not necessarily with the beading wire.
Although I neglected to mention it before, there is also clear monofilament fishing line that can be used.  It's somewhat between beading wire and thread in stiffness, and comes in everything from extremely thin to very thick.  I don't usually recommend the clear monofilament fishing line (not to be confused with crystal Fireline) because it doesn't stand up to wear very well over time.
Video Tutorial and Supplies
Here is the video for how to make Hoops and Daggers, as well as the supplies for all three of the examples that I showed in the video (and are on this post).
The supplies needed are as follows:
Blue Dagger Earrings
8 Czech dagger beads, 15x5mm, capri blue
20 Czech druk beads, 4mm round, light amethyst AB
20 seed beads, size 8, permanently galvanized gold
<1 gram size 11 seed beads, permanently galvanized pink
2 crimp beads, 2x2mm, gold-filled
2 earring findings
Beading wire, 19 strand, 014″ or .019″ diameter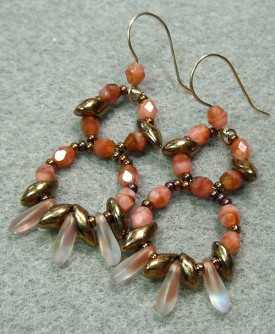 Purple Dagger Earrings
12 Czech dagger beads, 15x5mm, matte amethyst
20 square seed beads, 4mm, marbled turquoise green
36 seed beads, size 8, permanently galvanized gold
<1 gram size 11 seed beads, bronze
2 crimp beads, 2x2mm, gold-filled
2 earring findings
Beading wire, 19 strand, 014″ or .019″ diameter
6 jump rings, 3.5mm inner diameter, 18 gauge – amethyst
2 jump rings, 3.5mm inner diameter, 18 gauge – gold
Pink Dagger Earrings
12 Czech dagger beads, 11x3mm, matte Crystal/Pink
20 Czech fire polished beads, 4mm round, Pink Opal AB
12 magatama seed beads, 7mm, bronze
<1 gram size 11 seed beads, metallic iris
2 crimp beads, 2x2mm, gold-filled
2 earring findings
Beading wire, 19 strand, 014″ or .019″ diameter