How to Make Beaded Earring Findings – Video Tutorial
If you want to know how to make beaded earring findings, I've got you covered.  In this video tutorial I will show you how to make these earring findings with wire, and with whatever beads you want to use!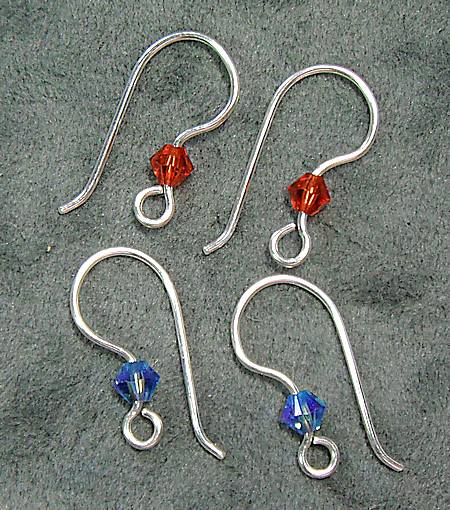 Earring Style
The style of these earrings is called several names.  In the tutorial, I refer to them as "shepherd's hook", but they are also known as fish hook and french hook earrings.
But it doesn't really matter what you call them — they are pretty by any name!
Wire Wrap – What Wire to Use?
In making these earrings using a "wire wrap" or "wirework" technique, wire does matter.  While how the wire looks is one consideration, things like gauge, material and hardness do come into play when making these.
In the video tutorial, I used 20 gauge wire.  It was silver-colored artistic wire, which is great for learning the technique.  Copper and red brass are also good alternatives for learning.
Once you are comfortable with making the findings, you will probably want to make them in sterling silver, silver-filled, gold-filled or niobium, as these are the metals that are far less likely to have an allergic effect.
(The photo at the top of the page are findings made from sterling silver.)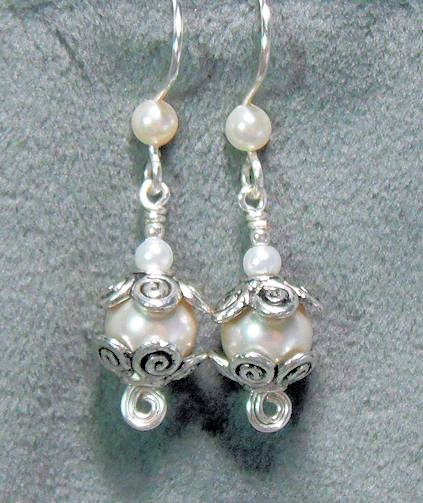 When it comes to gauge, 20 is pretty good.  It's stiff enough (even in dead soft) to hold it's shape well, while soft enough to manipulate easily.  If the wire is really soft (copper or fine silver), you may want to use half-hard.  Or, you can work-harden the wire a bit before you start forming the earrings.
I see a lot of these style earrings for sale in 21, 22 and 24 gauge.  If you have really small holes, you can go 22 gauge, but you'll need either full-hard wire or do some work hardening beforehand.   I don't recommend 24 gauge — it's just too thin, unless you are using something like stainless steel.
And you can certainly go for a thicker wire (19 or 18 gauge), if your earring holes will comfortably accommodate them.
Beads and Sizes
As far as the beads go, it's pretty much whatever you want.  I suggest that you stay between 2 mm and 4mm in size, for comfort and weight sake.
I personally like the Swarovski crystal pearls and bicones for my beads.  They come in so many colors, in both 3mm and 4mm sizes that it's easy to coordinate with your earring dangles, like in the photo with the pearls.
Video Tutorial
You'll see a little video screen; click on it and it expands to regular size.  Then all you need to do is watch the video!
Don't forget to check out some of my other video tutorials — the links are below.   Remember my jewelry projects, too.  Enjoy!