Get Twisted! Learn Twisted Tubular Herringbone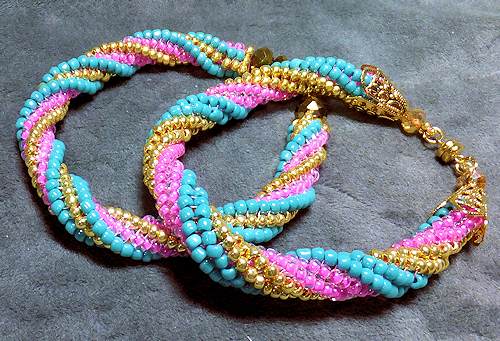 Twisted tubular herringbone was something that I had a whole lot of problems learning.  I read the directions in magazines and books a zillion times, but I could not grasp how to work the stitch.
Then came the idea — surely someone, somewhere, has done a video from which I can learn the stitch.  Search and ye shall find is my motto (at least when it comes to tracking down something related to beading).  I sought, I found and now I am ready to teach you!
What is Twisted Tubular Herringbone?
If you're familiar with the regular tubular herringbone beading stitch, you may wonder what makes this variation do the twist (so to speak)?  (And if you're not already familiar with the regular version, here's my tutorial on tubular herringbone.)
The twist is formed by both beading tension and also how the needle path dips (for lack of a better term) after each new set of beads is added.  It's really hard to explain, but when you actually see it, you'll have that "ah-hah!" moment.  At least, I hope you do!
In the video demo, I use the stitch to make a bracelet (as you can see in the photo on this page).  You can make your own bracelet, or go even farther and make a gorgeous necklace!
Half the fun of the twisted herringbone is picking different color combos for each column of the tube.  You can make it to appear to twist even faster, depending on how often you change the colors of your seed beads.
Twisted Tubular Herringbone Video
If you'd like to learn how to make your own twisted tubular herringbone jewelry, sit right down, grab yourself something to drink, then sit back and watch.  The video is a little over 20 minutes long, but when you're done, you should know enough to start your own bracelet or necklace!
Oh, and if you like the bracelet I am wearing in the video, see my post on odd-count peyote.
As to supplies, I used the following for an 8-inch bracelet:
Fireline, 6lb size
Beading needle, size 11
Seed beads, size 8.  You'll need about 25 grams for an 8-inch bracelet, split between whatever number of colors you choose to use.
2 end caps (gold-plated)
1 magnetic clasp
Open jump rings
2 Crystal rondells (10mm x 6mm)
So, I hope you find the video help, fun and it inspires you to create your own twisted tubular herringbone jewelry!  😀