Cool Down With Snowman Earrings!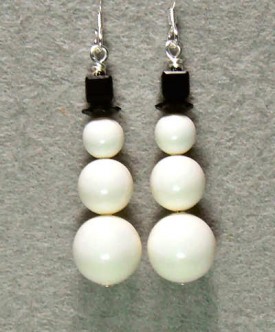 This snowman earrings tutorial is kind of an "in between" look.  It's not holiday-only, like the Christmas tree earrings, nor is it a year 'round look like angel jewelry.  But these teeny-tiny relatives of Frosty look good any time it's winter!
Like the other two pieces of jewelry mentioned above, these are beginner-level.  Intermediate an advanced beaders will undoubtedly come up with their own takes of these classic earrings.
Supplies and Directions for the Snowman Earrings
Very simple for the supplies; you'll need the following.
Two 10mm round beads
Two 8mm round beads
Two 6mm round beads
Two 6mm marguerite beads
Two 4mm cube beads
Two headpins
Pair of earring findings
Pliers, cutters
I've made these with the Swarovski crystal beads in the new color called ivory.  I thought it looked appropriately "snowy", but this also looks amazing in crystal AB.
It will probably take you less than 3 minutes to make these frozen delights, which makes them great for last minute presents.  So be sure to keep some extra supplies around.  🙂
You'll also see a larger snowman that I made for a pendant, in the course of the video.  He's done in crystal AB.
Now that I've said all that, it's time for the video.  I hope you enjoy it!