Beginning the End – Crimps, Guardians, Covers – Oh My!
Many people think adding the clasp is an end to their jewelry creation.  That may be so, but the beginning of the end includes using crimps, wire guardians and crimp covers.  These are what you can use to attach your jewelry to your clasp.
But…what are they and how do you use them?  Read on, and learn what you need to know, then watch the video (below) to see it all in action.
 Wire Guardians

These are handy little items that help to prevent your wire from abrading, where it connects to the clasp.  It looks like a horseshoe, and the wire travels up a short tube, over the top of the horseshoe, and then back down the other tube.
The inside of the horseshoe is what is in contact with the clasp, preventing abrasion to the wire.
I have also used these with beading thread such as Fireline, although if you do use beading thread, you'll want to use a heavier thread and make more than one pass through the guardian.
Why use these with beading thread?  Because when it comes time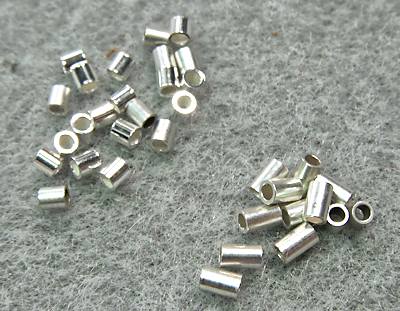 to add a jump ring to attach the clasp, the thread won't slide out of the jump ring.
Crimps
Crimps are used mostly with beading wire, to fasten the beading wire to the clasp.  Beading wire is made from ultra-thin strands of steel made into a thin cable, so you don't just tie them like you would beading thread.  Instead, you crimp the ends to hold the pieces of wire in place.
Crimps come in many different metals and several different styles.  Shown in the photo are crimp tubes — teeny-tiny pieces of tubing.  On the upper left are 2x2mm tubes and the bottom right has 2x3mm tubes.  They are made from sterling silver.
You can also find them where they look more like a bead, or where they have a twist pattern.  Since they all smush (technical term, LOL) flat and then into a skinny tube, I like to start with a plain tube.  However, feel free to explore the various shapes!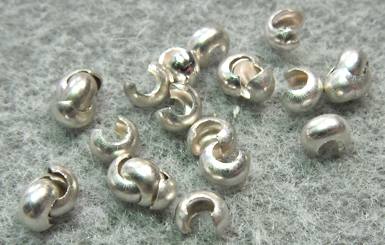 When you're just starting out learning how to crimp, I suggest starting with copper crimps.  They are softer than base metal, plus they are definitely less expensive than sterling silver!
Crimp Covers
Most of the time, crimps aren't folded absolutely perfectly.  Crimp covers save the day by, as you may guess, covering the crimps!
They look like rounds beads with a bite taken out of them.
What happens is that the "bite" is what allows the magic to happen!  Because you sandwich the cover around the crimp, then ever so gently move the ends of the "bite" together.
You'll need to do this little by little, as you want the end product to look as much like a round bead as possible.  And when you're done, the crimps are hidden from view.
See Them in Action – Video Tutorial
Now that I've explained a little more about these handy findings that make your jewelry look more professionally finished, there's nothing like seeing it all in action, right?  Right!
So here's a video tutorial for you.  Click on the thumbnail image and it will expand to a larger size.  Then sit back and enjoy!
Supplies Used:
Beading wire (21 strand medium weight, 8 to 10 inches)
Clasp of your choice (I used a sterling silver toggle clasp)
Crimp tubes (Sterling silver, 2x2mm)
Crimp Beads (Sterling silver, 3mm)
Wire guardians (Sterling silver, .024 size)
Beads (I used a mix of Swarovski pearls in 6mm and 8mm, crystal rondells 8mm, fire polished 4mm rounds, sterling silver 4mm)
Miscellaneous sterling silver daisy spacers, bead caps
10 Responses to Beginning the End – Crimps, Guardians, Covers – Oh My!