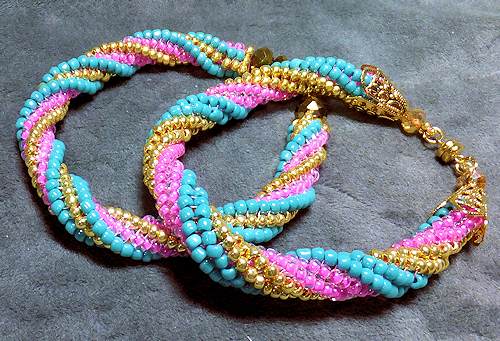 Twisted tubular herringbone was something that I had a whole lot of problems learning.  I read the directions in magazines and books a zillion times, but I could not grasp how to work the stitch.
Then came the idea — surely someone, somewhere, has done a video from which I can learn the stitch.  Search and ye shall find is my motto (at least when it comes to tracking down something related to beading).  I sought, I found and now I am ready to teach you!
What is Twisted Tubular Herringbone?
If you're familiar with the regular tubular herringbone beading stitch, you may wonder what makes this variation do the twist (so to speak)?  (And if you're not already familiar with the regular version, here's my tutorial on tubular herringbone.)
The twist is formed by both beading tension and also how the needle path dips (for lack of a better term) after each new set of beads is added.  It's really hard to explain, but when you actually see it, you'll have that "ah-hah!" moment.  At least, I hope you do!
In the video demo, I use the stitch to make a bracelet (as you can see in the photo on this page).  You can make your own bracelet, or go even farther and make a gorgeous necklace!
Half the fun of the twisted herringbone is picking different color combos for each column of the tube.  You can make it to appear to twist even faster, depending on how often you change the colors of your seed beads.
Twisted Tubular Herringbone Video
If you'd like to learn how to make your own twisted tubular herringbone jewelry, sit right down, grab yourself something to drink, then sit back and watch.  The video is a little over 20 minutes long, but when you're done, you should know enough to start your own bracelet or necklace!
Oh, and if you like the bracelet I am wearing in the video, see my post on odd-count peyote.
As to supplies, I used the following for an 8-inch bracelet:
Fireline, 6lb size
Beading needle, size 11
Seed beads, size 8.  You'll need about 25 grams for an 8-inch bracelet, split between whatever number of colors you choose to use.
2 end caps (gold-plated)
1 magnetic clasp
Open jump rings
2 Crystal rondells (10mm x 6mm)
So, I hope you find the video help, fun and it inspires you to create your own twisted tubular herringbone jewelry!  😀
Beading needles are something that everyone who does beadweaving uses with their projects.  The humble beading needle has gone from just one more supply item to something more high-tech.
Let's take a look at beading needles, and then also see a video on this supply item that beadweaving wouldn't be the same without!
Beading Needle Basics
What is a beading needle, anyway, and why is it different from any other needle you may have on hand?
A beading needle is thin, and it has a larger eye in comparison to its thickness, than does a regular sewing needle.  While you can use a sewing needle for some projects with larger seed beads, a beading needle is very much a necessity for smaller seed beads and many gemstone beads – especially cultured pearls.
What about lengths?  They do come in several lengths, with the longer being designated as "longs" and the shorter as (you guessed it) "shorts".  Which should you use?  It's mostly a preference — whichever is most comfortable for you.
Beading Needle Sizes
The needles come in sizes 10, 11, 12, 13 and 15.  (There may be a 14 out there somewhere, but I haven't come across one.)  Like wire, the bigger the number, the thinner the needle.
The most common two sizes are 10 and 12.  If you can find an 11, though, snag it — it's thin enough for most seed beads, but has a larger eye that is easier to thread.
I do have some 13s and even a 15, but I rarely use them.  Actually, come to think of it, I have never used the size 15!  I can't see the eye, much less thread it, LOL.  😉
Basics of Beading Needles Video
If you want to learn a little more about the humble beading needle, and see why it's gone more high-tech, click the video to watch and see the different kinds of needles that are out there.
Enjoy!!!
If you've been trying to find an odd count peyote tutorial with some cool projects, sit tight — I've got something for you!  But before we talk about the projects, let's talk about odd count peyote versus even count.
Even count peyote is a beadweaving stitch that is usually one of the very first that people learn, when getting into beading.  It's easy and there are no funky "extra steps" like you might see in square stitch or right angle weave.  No doubt about it, even count is straightforward.  But there's a problem — you can't make a project with a centered design.
Odd count peyote does allow a centered design, and gives you greater freedom of design.  The problem?  On odd-number rows, there is a funky turn that can be frustrating to learn (but easy once you've mastered it).
(Actually, there's an easy way to do that turn — more about that in a minute.)
The point is this – by learning odd count peyote, you expand your beading world.  Not to mention, you can do some pretty cool projects!
About the Tutorial
So, what about this tutorial?  First, you get three main projects, with alternate ideas as well.  The three bracelets you'll learn to make are:
Confetti Fun:  This bracelet is a starting point to mastering odd count peyote.  You learn how to do odd-count with an easy pattern that lets you become confident with that odd-row turn!
Slither:  Slide into the world of odd count peyote using two-hole beads.  To make a pun, it's a "hole" new way of looking at (and working with) odd count.  Every time I wear this bracelet, I get compliments on it!  You'll learn two ways to make this bracelet, with additional ideas as well.
There be Dragons!:  Get ready to try your hand with two hole triangle beads, which gives the impression of a dragon's scales.  Also learn to accent your bracelet with a Czech button, for a clasp that truly compliments the bracelet.
You will be able to adapt what you learn in any bracelet to any other bracelet.  Do if you like the clasp on one, with embellishments like one of the others, you'll be able to mix and match.
And you will learn the easy way to make the odd-row turn!
The cost of the tutorial is just $9, and you get 47 pages and 86 photos, most of them very close up — you see exactly where you need to put your needle and beads!
(If you are reading this on a translated page, please know that this tutorial is written in English.)
Note:  This book is in PDF form, and is only available by downloading.  However, you get this ebook immediately after purchasing — you will see a link on your invoice, and you'll also get an email with the same link.  The file is about 2 MB in size.
I created this ebook all by myself — I took the photos and wrote all the text.  Good or bad — it's all mine, LOL!  (I hope that you consider it very good though.)
I do my absolute best to over-deliver and give you an excellent value for your money.

To get this ebook digitally delivered (i.e., you get it immediately), simply click the "Add to Cart" button above.