Superduo Bracelet Tutorial – Herringbone Style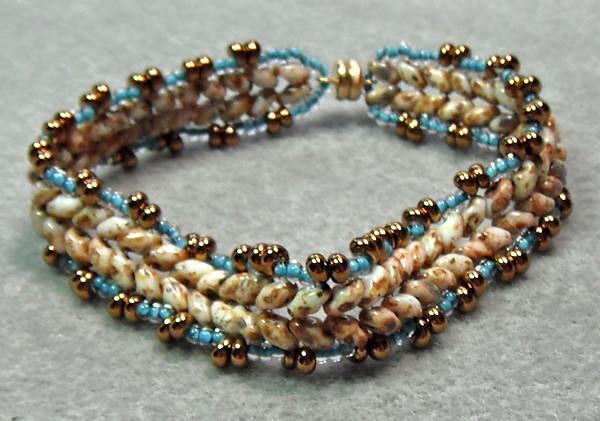 This superduo bracelet tutorial features the herringbone beading weave.  Right now, the Czech Superduo beads are all the rage, but what can you do with them?  They are two-holed beads, so they can't be used in traditional weaves.  Or can they?
This bracelet shows that the herringbone weave for beading can quite nicely accommodate the new 2-hole beads.  What's more, it works up very quickly, especially when done 2 beads across.
If you'd like to make your own bracelet, you'll find a supply list and the video tutorial below.  🙂
First, a Review of the Beads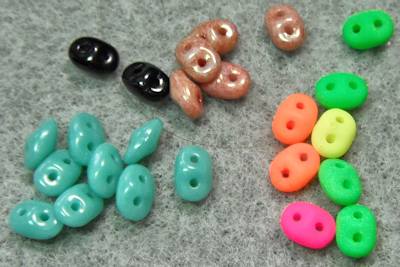 Here's a quick review of the beads.  These are from the Czech Republic and they have an unusual shape.  Overall, you could call them oval-shaped, but in profile they are raised in the center and tapered on the end.
Note:  There are three (at the time of this writing) "versions" of the Superduo; the original and two variants.  The variants are thicker on the ends, instead of being tapered.  And while they are very nice beads in their own right, they are not necessarily interchangeable with the Superduos.  The most common one that I have seen is called the Twin bead, and it's made by the Czech firm Preciosa.
The colors of the Superduos include neon (a few of which are in the photo), as well as traditional colors and some of the new color treatments like Vega, Picasso, Travertine and many others.
Now on to the supply list and tutorial!
Supply List and Video Tutorial
Here are the supplies that you will need for the bracelet in the tutorial, as well as the colors in the other two examples I have in the video.
And of course, when you are done watching, please take a look at some of the other videos and projects on this website!  In particular the Basics page and the Project Tutorials pages have lots more to see and do!  😀
Video Project Supplies
10 grams Superduo beads, Chalk Travertine
< 2 grams magatama beads, Bronze
< 2 grams size 11 seed beads, turquoise colorlined clear
Thread of your choice (I used One-G in Beige)
Clasp of your choice (I used a magnetic clasp)
Beading needle, size 11 or 12 suggested
Scissors
Thread Burner (totally optional)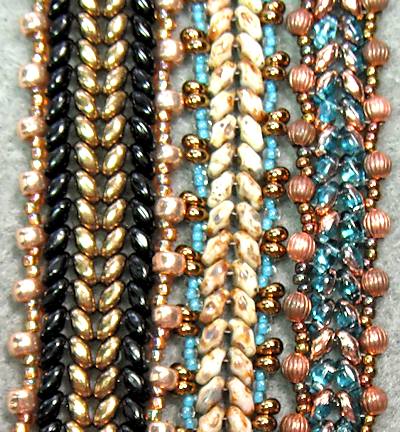 Double Herringbone Example
10 grams Superduo beads, Turquoise
10 grams Superduo beads, Black
< 2 grams size 11 seed beads, topaz AB
< 3 grams size 6 seed beads, copper-color
Thread of your choice (I used One-G in Beige)
Clasp of your choice (I used a copper toggle clasp)
Beading needle, size 11 or 12 suggested
Scissors
Thread Burner (totally optional)
Example With Corrugated Copper Breads
10 grams Superduo beads, Aqua Apollo Gold
< 2 grams size 11 seed beads, topaz AB
40 – 50 3mm beads, copper
Thread of your choice (I used One-G in Beige)
Clasp of your choice (I used a copper magnetic clasp)
Beading needle, size 11 or 12 suggested
Scissors
Thread Burner (totally optional)
4 Responses to Superduo Bracelet Tutorial – Herringbone Style