Double Herringbone Bracelet with Superduo Beads Tutorial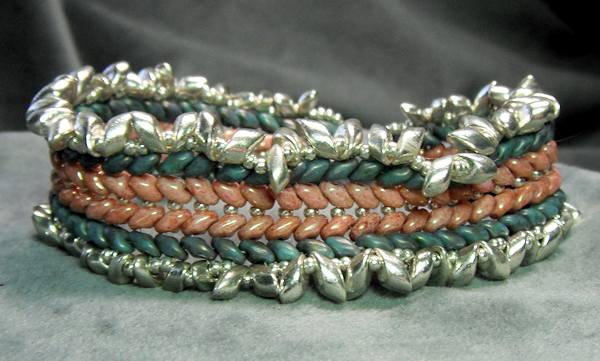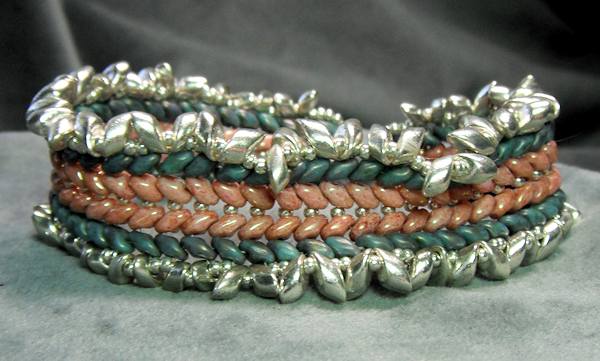 How about another herringbone bracelet made with Superduo beads?  This video tutorial shows you how to use these cool beads in a bracelet project that has you seeing double.  😉
I'm glad that I bought a whole bunch of the Superduo beads when I found them on sale, so I can continue making new projects!
What's Double Herringbone?
Well, I probably just made up the title to fit this project.  I call it double herringbone for two reasons.
There are two columns of herringbone running lengthwise.
There is a fringe that has a herringbone look to it.
In any case, it's a fun project, and it actually does work up pretty fast.  It's more substantial than my original herringbone Superduo bracelet tutorial, so if you want something a little more eye-catching, this may be it for you.  🙂
Supplies and Video Tutorial
Of course, you will need plenty of Superduo beads for this project.  The bracelet I made is about 7.5″, and it used about 20 grams of the beads.  And another sun bead you'll use is the 4x7mm magatama beads.
Click the video icon and it will expand to a normal size.  Then click again and it magically begins playing.  😉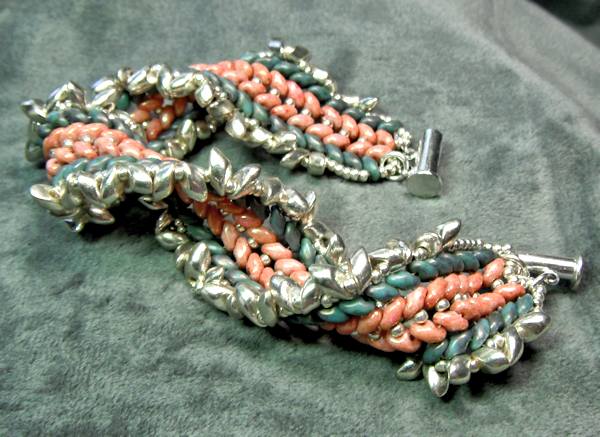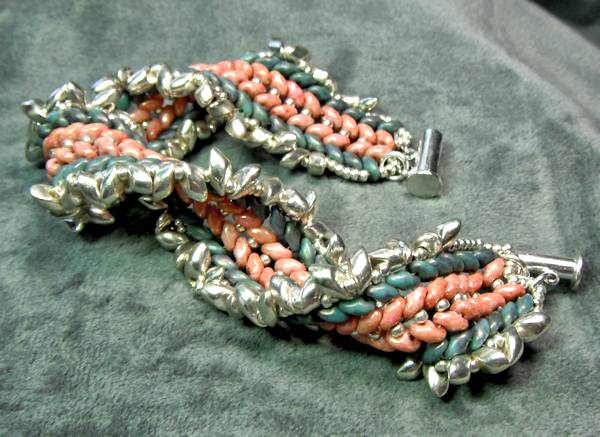 As far as supplies go, you will need the following:
10 grams Superduo beads, Ruby Luster
10 grams Superduo beads, Copper Turquoise
12 grams 4x7mm Magatama beads, Platinum
2 grams size 11 seed beasds, permanently galavanized silver
Clasp of your choice (I use a magnetic tube clasp in the video)
4 jump rings, 3.5mm inside diameter
Thread of your choice (I am using One-G in the video in Beige)
Size 11 beading needle (size 12 would also work)
Scissors and/or thread burner
Beeswax or micro-crystalline wax to make the thread "stickier"
I rarely use beeswax or other thread conditioners, but I found it to be necessary for this project.  The Superduo beads get very slippery while you are doing the double row of herringbone.  I tried it several times without using the micro-crystalline wax, then finally gave up and waxed my thread.  Ahhh, success!   Just don't use Thread Heaven for this project, because Thread Heaven doesn't make the thread "grab" the beads.
I hope that you have enjoyed this video!  Please go ahead and check out all the other neat projects and tutorials on this site…and get beading!
2 Responses to Double Herringbone Bracelet with Superduo Beads Tutorial