Right Angle Weave Earrings With Dagger Beads
Dagger-style beads are getting to be more and more popular, so here's a tutorial for making a pair of earrings using right angle weave with these neat beads. And to make things more interesting, I've also used some of the new peanut-style seed beads.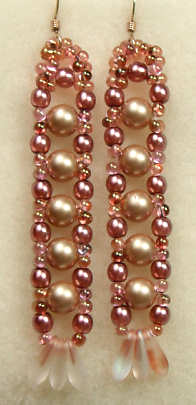 I was browsing around at my local bead store the other day and found some interesting seed beads.  They are of the "peanut" style, but are called farfalle.  I suspect the beads I bought are from the Czech Republic, seeing as they came on hanks and were a little bit variable in size.  But they were a luminous pink and bronze, and looked gorgeous so I had to get them.
And of course, the farfalle (i.e. peanut) beads were hanging near to the collection of dagger beads, well, I just had to add some to my basket, even though I wasn't exactly sure what I was going to do with them.  I have learned the hard way — buy now or miss them later (just ask me what happened to my 32 gauge wire I was wanting…)
I had some Czech druk beads sitting at home that were rose-colored, and some Swarovski crystal pearls, so it was off to decide on what I wanted to make.
I decided to make an earring tutorial for this pair, and show you how I did it using right angle weave.
Supplies Needed for Right Angle Weave Earrings With Dagger Beads
The supplies I used for these earrings are as follows:
Size 10 beading needle
1 Pair gold-filled earring wires
Fireline, crystal, 6 lb test
10 Swarovski crystal pearls, 6mm, vintage gold
26 Czech druk beads, 4 mm, pearlized rose
6 Dagger beads, 9x3mm
1 Gram (more or less) of Czech farfalle seed beads, rose bronze, size 11-ish (I said size 12 in the video but I think they are closer to size 11.)
While it's useful if you already know the right angle weave beading stitch before trying this, it's not really necessary.  As you'll see, it's pretty straight-forward.
I hope you enjoy this video tutorial!  And as always, feel free to "like" me on Facebook or leave a comment below.  🙂
3 Responses to Right Angle Weave Earrings With Dagger Beads