Bead Embroidery Earrings Tutorial — Tutorial #1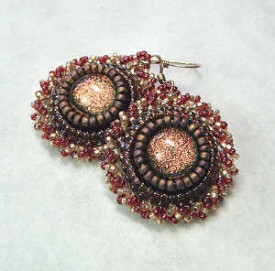 I've created this bead embroidery earrings tutorial because I can be an "instant gratification" junkie at times, and earrings can be very fast to make!  They are also great if you've never done bead embroidery because  they don't require a lot of supplies that are used with this technique.
Plus, you can't have too many earrings, right?  🙂
What You Will Learn
In the 38 pages of the Bead Embroidery Earrings1 tutorial, you'll learn lots, including the following.
Three earrings — "Emerald Eyes", "Autumn Sun" and "Abby's Bouquet".  Naturally, you'll get a full supply list, including the seed bead color numbers.
How to make a basic edging that looks really nice, plus variations to add in a "wow!" factor — you choose how much or little to add!
Make earrings with both round and pear shaped cabochons, and a special consideration for the pear shape that you might not have thought of, when it comes to fringes.
Bead embroidery stitches, along with some tips for making some of them easier and faster.
A bonus project — a fringe variation on the "Abby's Bouquet" earring set.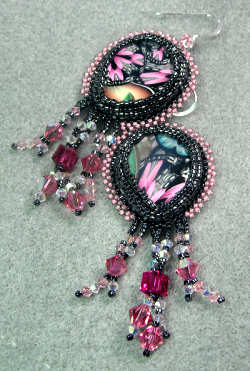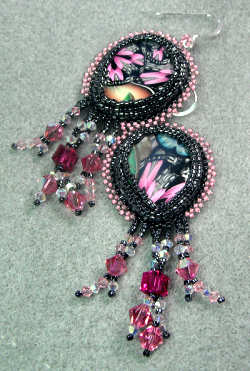 There are lots and lots of photos for the steps — most are close-ups so you can see exactly where you need to put your needle!

How to Get the Tutorial
Your tutorial is delivered as an ebook, so it's an immediate download. This means you can satisfy your "need to bead" at any time of day or night!
(Keep in mind that while you're not getting a paperback copy in the mail, it also means that you don't have to wait for the mailman — yay!) Also, because of the nature of this tutorial, there are no refunds. But I've tried my best to over-deliver for you!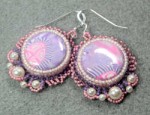 The Bead Embroidery Earrings tutorial is just $6, and you'll get detailed instructions (and photos!) for making the earrings "Emerald Eyes", "Autumn Sun" and "Abby's Bouquet".  Plus a bonus variation on the fringe for "Abby's Bouquet".  And of course, you will get a full supply list.
So click the "Add to Cart" button above and you're on your way to making your bead embroidery earrings.  It's secure and you can safely pay with any major credit card. You'll receive the download link in an email right after you place your order.