Quick Dangle Earrings Video Tutorial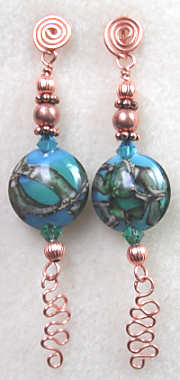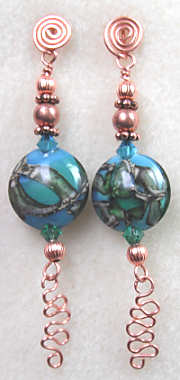 Here's a quick dangle earrings video tutorial for you, now that you know how to make the quick-change earring posts.  After all, what are findings without some earrings to go with them?  🙂
What's nice about these earrings is that even though the basic design is very, well, basic, you can change it up in all kinds of ways to make something to suit your needs.  And it's really fast — in fact, it normally takes me longer to pick out the beads I want to use, than to make the earrings themselves!
The design is versatile in that you can make them very dainty with a small drop and no dangle, all the way up to over-the-top.  Your choice!
Earring Supplies
In order to make these earrings, you will need some supplies.  If you're new to beadwork and wirework, I suggest you make these once first with an inexpensive wire before you try it with sterling silver or gold-filled wire.  In the video, I am using copper wire.  Here are the supplies you will need.
2 eyepins, about 2.5 inches long, in 22 gauge copper wire.  You can buy the eyepins or make them yourself.
2 lampwork beads (or beads of your choice), about 14mm in diameter.
4 Swarovski bicone crystals, 4mm in size.  You can use any color that coordinates with your lampwork beads.
4 corrugated copper round beads, 4mm in size.
2 round copper beads, 5mm in size.
4 copper daisy spacers.
Pliers — a pair of round nose and a pair of chain nose.
Wire cutters.
2 pieces of squiggled wire.
Earring findings.
As to the squiggled wire, what I've done is take two pieces of leftover copper wire that I have bent around my round nose pliers.  The design doesn't really matter — just whatever pleases you.  (Making the dangles is fun, and a good way to use up those odd pieces of wire that are too big to throw away, but too small to do much with.)
Quick Dangle Earrings Video Tutorial
Now that you know the supplies, it's time to make the earrings.  The video is only about 7 minutes long, so it won't take you long to watch it, and then you can enjoy making your own.  🙂
And if you like the video, please feel free to "like" me on Facebook (thank you kindly).
P.S. — you might also want to check my projects page for more jewelry tutorials.
2 Responses to Quick Dangle Earrings Video Tutorial